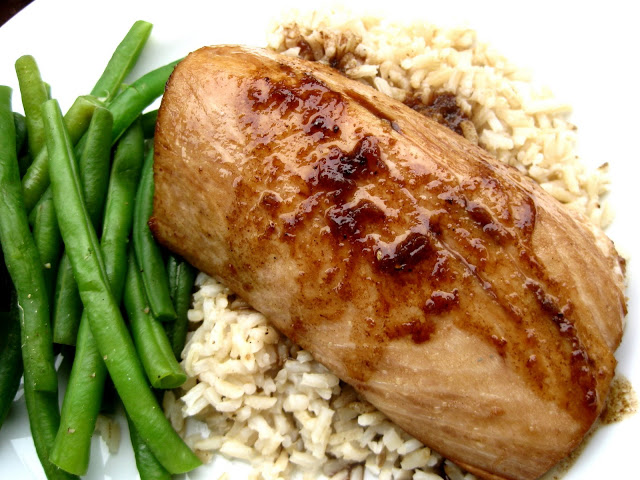 If a degree could (and it should) be awarded in the area of recipe research expertise, I would be an overqualified candidate. I have become a sleuth of sorts. A dinner detective. An ingredient interrogator. If the recipe for a mystery dish exists, I will hunt it down. I will not rest until it's found.
Alright, I'm exaggerating a bit, but the truth is, I've become very efficient at tracking down recipes. I spend a lot of free time perusing cooking sites on the Internet and I know where to go. So about a month ago, when a friend had me over for dinner and served me the most delicious Mahi I'd ever tasted, I should have asked her for the recipe. But instead (perhaps I like the thrill of the chase), I found myself conducting a cyber search for it's whereabouts. And then one day I stumbled upon it… hidden in plain sight at All Recipes!
This fish is fantastic! Mahi mahi is now my favorite (cooked) fish. (I like my tuna and salmon better raw.) It is a lot meatier than its other finned friends and has very little fishy flavor. (Funny how when we eat fish we don't want them to taste like…fish.) The ginger balsamic marinade which also serves as the glaze for this Mahi dish is phenomenal! Serve it over a bed of brown rice to soak up the runoff.
This case is closed, but the dish has been such a hit that I've begun a new search for more methods of Mahi preparation, and already have several exotic and delicious looking recipes to try!
INGREDIENTS
3 Tbsp. honey
3 Tbsp. reduced sodium soy sauce
3 Tbsp. balsamic vinegar
1 tsp. fresh ginger root, grated
1 clove garlic, minced
2 tsp. extra virgin olive oil
2 6 oz. mahi mahi fillets
salt and pepper, to taste
DIRECTIONS
1. Season fish fillets with salt and pepper. In shallow dish stir together honey, soy sauce, balsamic vinegar, ginger, garlic, and olive oil. Place fish into the dish. Cover and let marinate in the refrigerator for 20 minutes.
2. Preheat oven to 400 F. Remove fish from marinade, draining it into a shallow pan. Bake fish for 10-15 minutes, until it easily flakes with a fork. (Fish could also be grilled or pan fried.)
3. While the fish is baking, place the reserved marinade in a shallow pan over medium high heat and bring to a boil. Reduce heat and simmer several minutes. Spoon glaze over fish, and serve.
Serves 2.
(Adapted from All Recipes)