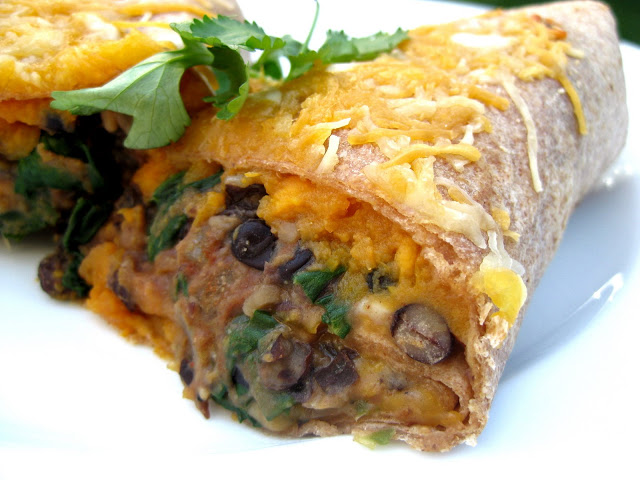 Definitely a unique twist on the standard burrito. Very vegetarian. Very yummy too. I added a few extras (cleaning out the fridge) that you may or may not want to include…spinach, bell pepper, and a dash of cinnamon. This recipe can be played with and odds are it will still turn out well. I've seen a bunch of different adaptations by fellow
bloggers
. Here's mine.P.S. I know the soy sauce seems out of place in a Mexican dish. I questioned its authenticity too, but used it anyway. If you feel disloyal tainting a Southwestern staple with an Eastern ingredient I suggest just adding some salt (maybe a teaspoonful?). That should do the trick.
INGREDIENTS
1 can black beans, drained and rinsed
2 small or 1 large sweet potato, cooked and mashed
1 Tbsp. extra virgin olive oil
1 onion, diced
1 red, orange, or yellow bell pepper, diced (optional)
2 large cloves garlic, minced
1 Tbsp. chili powder
1 tsp. cumin
1/4 tsp. cinnamon
1/2 cup water (or chicken, vegetable, or beef broth)
1 tsp. mustard
1 Tbsp. soy sauce
handful of fresh spinach, chopped (optional)
1 cup Cheddar or Mexican cheese blend, shredded
4 large whole wheat tortillas
handful fresh cilantro, chopped for garnishDIRECTIONS
1. Preheat oven to 350 F.2. Heat olive oil in a large skillet over medium high heat. Add onion, bell pepper (if using), and garlic. Saute until soft. Add chili powder, cumin, and cinnamon, and black beans. Mash black means to desired consistency (I use a potato masher). Stir in water/broth, mustard, and soy sauce. Add spinach (if using), stirring until wilted.
3. Heat tortillas in microwave for a few seconds to make them soft. Spread mashed sweet potato on the center of the tortilla. Cover with black bean mixture. Sprinkle with cheese. Roll up burrito and place on a greased pan. Sprinkle with more cheese. Repeat with the rest of the tortillas.
4. Bake for 12-15 minutes (longer if they have been refrigerated first), until heated through and the cheese on top has melted. Garnish with cilantro and serve.
Makes 4 burritos.
(Adapted from All Recipes)