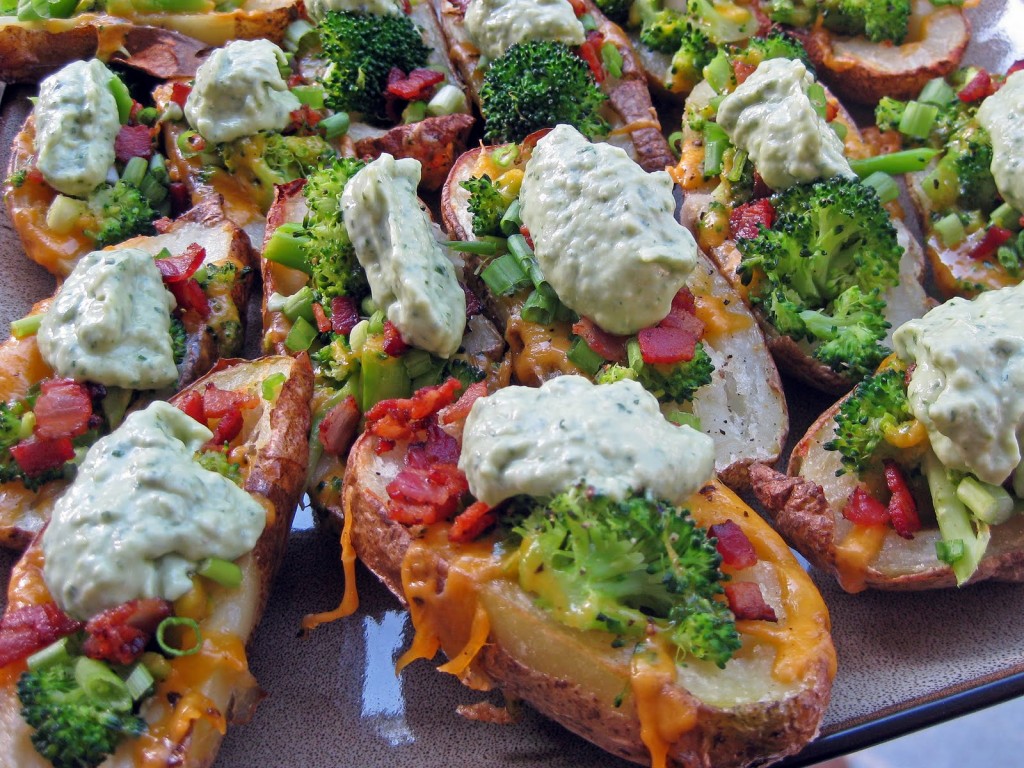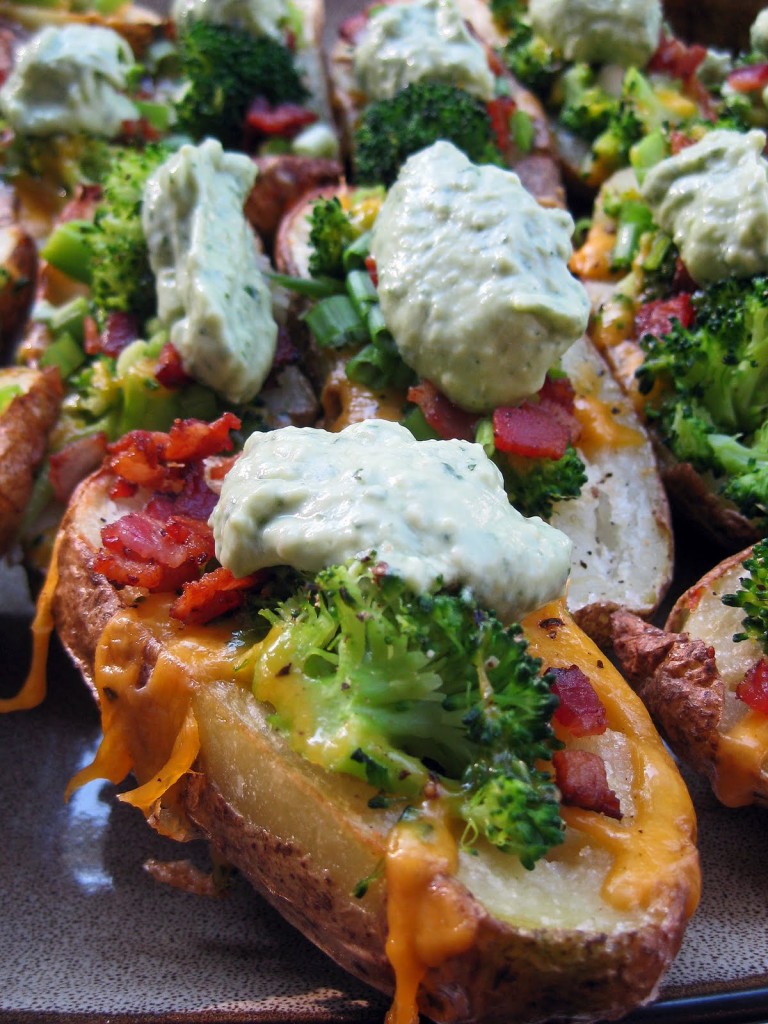 Since it makes much more sense to buy potatoes in bulk, we have also been eating baked potato skins all week (with this delectable pulled pork)! I'm now in love with baby Idahos (they're just my size!) and the method for making these. Even without all the fancy toppings you can make yourself the most delicious baked potato in several simple steps (detailed below). In summary, you microwave the taters soft, then slice them open and crisp them up in a hot oven. Soft and steaming on the inside and crunchy perfection on the out. With cheese and bacon bits and sour cream… even better!
Stuffing skins with broccoli is an innovative and healthier approach. But of course it doesn't stop there- Cheddar and bacon and scallions and a creamy avocado dip. What more could you want in an appetizer? Serve these warm right out of the oven and your guests will be coming back for more!
INGREDIENTS
8 small Idaho potatoes, scrubbed and dried
canola oil/cooking spray
salt
8 oz. broccoli florets, chopped (about 4 cups)
4 slices bacon, diced (or Canadian bacon)
3/4 cup extra-sharp Cheddar, grated
Avocado Creme:
2 scallions, thinly sliced, greens reserved
1 medium avocado, peeled and pitted
1/2 cup sour cream
2 Tbsp. lime juice
1/4 cup fresh cilantro, chopped
1 clove garlic, chopped
1/4 tsp. salt
DIRECTIONS
1. Preheat oven to 450 F.
2. Pierce potatoes several times with a fork and wrap in paper towels. Microwave on high for 12-15 minutes, until potatoes are cooked through. Remove from microwave and cool until potatoes are easy to handle. Slice potatoes in half lengthwise. Using a spoon, scoop out about half of the inside of the potato, leaving skin intact. Reserve scooped potato flesh for another use.
3. Brush both inside and outside of potatoes with oil (I sprayed with canola oil cooking spray) and sprinkle with salt. Place potatoes, skin-side down, on a baking sheet and bake until skins are crisp and edges are golden brown, about 20 minutes.
4. In the meantime, prepare the filling. Steam the broccoli until crisp-tender, about 3 to 4 minutes. Drain and set aside. Cook the bacon over medium heat until crisp and set aside on paper towels to drain.
5. To make avocado cream, combine scallion whites, avocado, sour cream, lime juice, cilantro, garlic and salt in the small bowl of a food processor and process on high until smooth. About 30 seconds. Cover and refrigerate until ready to use.
6. Toss the broccoli with cheese and spoon filling evenly among potatoes. Lower oven to 400 degrees F and return potatoes to oven until cheese is melted, about 5 minutes. Spoon 1 tablespoon of the avocado cream on top of broccoli-filled potatoes, then top with scallion greens and 1 teaspoon crisped bacon bits. Serve hot.
Serves 8.
(Adapted from Food Network)