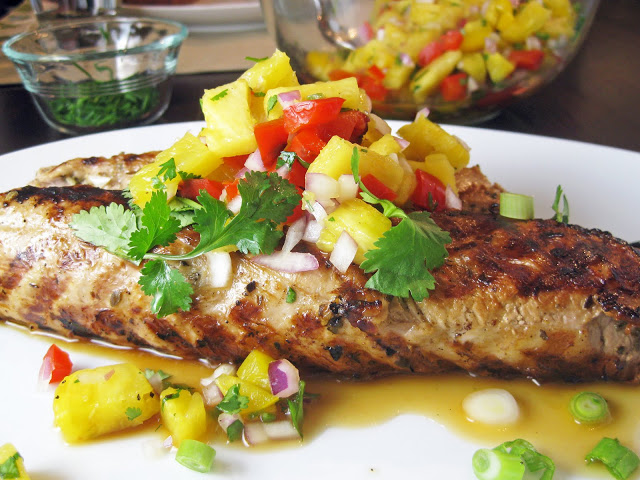 Dustin can vouch that I'm full of suspicion. I hesitate to believe the promises of a politician (can you blame me?), I don't trust our GPS (it has been wrong in the past), I always purchase delivery confirmation because I doubt the responsibility of the USPS (they've lost my mail before), I'm leery of the reading on my meat thermometer (which leads to a lot of tiny incisions in our dinner) and I constantly debate the directions when I'm following a recipe. (Luckily, this lack of confidence-or stubbornness-has saved quite a few desserts in the past. Either my oven is piping hot or the rest of the world is wrong, because my baked goods never take as long to cook.)
This time it was the marinade. I suspected that one hour was not nearly long enough to produce a tender juicy pork tenderloin. So I read user reviews and weighed my options. It couldn't hurt to bathe the pork for a few extra hours, could it? But then I'd never find out if the recipe was actually right. So on a rare whim, I went with it. I followed the recipe exactly and guess what? One hour was enough! Cooking Light was right- and my fears were wrong. This savory pork loin was incredibly moist and flavorful! Topped with a freshly grilled pineapple and sweet pepper salsa it was fantastic. It makes a healthy, light, and refreshing summer meal. Trust me!
Adobo Marinated Pork Tenderloin with Grilled Pineapple Salsa
INGREDIENTS

Pork Tenderloin:
2 lb. pork tenderloin
1 cup freshly squeezed lime juice (about 8 limes)
6 cloves garlic, minced
2 tsp. freshly ground black pepper
2 tsp. ground cumin
2 tsp. Mexican oregano
1 1/2 tsp. sea salt
extra virgin olive oil
fresh cilantro, chopped (for serving)
green onions, sliced (for serving)
Grilled Pineapple Salsa:
1 large pineapple, cut into 1 inch wide strips
1 red bell pepper, halved and seeded
1 yellow bell pepper, halved and seeded
1 jalapeno, minced
1/2 red onion, diced
1/2 cup fresh cilantro, chopped
1 lime, juiced
2 tsp. brown sugar
salt and freshly ground black pepper, to taste
DIRECTIONS
1. To make the marinade, in a small bowl, whisk to combine the lime juice, garlic, pepper, cumin, oregano, and salt. Place the pork tenderloin in a plastic ziploc bag and pour the marinade over the pork. Refrigerate 1 hour.
2. To make the pineapple salsa, preheat an outdoor drill or indoor grill pan to medium-high heat. Spray the grill with cooking spray and grill the pineapple strips and the bell peppers for several minutes on each side. Cool before dicing the pineapple and peppers. In a large bowl, toss to combine the pineapple, peppers, jalapeno, onion, cilantro, lime juice, and brown sugar. Season to taste with salt and pepper. Serve warm or refrigerate until ready to serve (I recommend letting it come to room temperature before serving).
3. To grill the pork, preheat an outdoor grill or indoor grill pan to medium-high heat. Discard the marinade. Brush the pork with olive oil and place on the grill. Cook until the pork is only slightly pink (the original recipe recommends an internal temperature of 160 F, but I find this a little too well done). Remove from the grill and let rest at least 5 minutes before slicing. Serve topped with grilled pineapple salsa.
Serves 4-6.
(Adapted from Cooking Light)