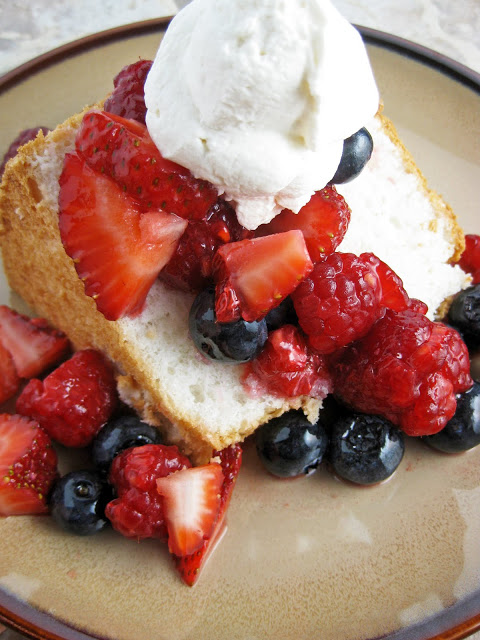 Today is Mother's Day. And this is what I made for my mom. I'm not cute and crafty. I don't stitch or sew, paint or design. When I want to create a gift from scratch, I bake. And this occasion called for angel food cake. The perfect ending to an awesome weekend with my family and the perfect way to celebrate my mom. For my mom- I love you.
5/29/09: I've never liked angel food cake much. I always thought it was bland and too airy-not really fit to be called a cake. So why I found myself spending the time to separate a dozen eggs and whip their frothy whites might seem perplexing. Hint: See photo above.
The fresh summer berries are what caught my attention; the cake simply being the vehicle for their delivery. Bright busty berries are popping up at the market and I can't resist incorporating them into salads and desserts…even dinner as you'll see tomorrow! Just out of personal preference I used strawberries instead of blackberries…but why not try both?!
In cooking and baking I never cease to surprise myself. Sometimes the dishes I expect to turn out devastatingly spectacular are flops and those I doubted become favorites. The berries were a spectacle. But I do not lie, the cake was phenomenal!
This recipe redefines angel food cake. I swear I will NEVER make a boxed version again. They taste like cardboard in comparison. This is light and fluffy, sweet and silky, melt-in-your-mouth good. The photos above just don't do it justice (rainy days are extra annoying when photographing food). The cake flour is essential for lift and you want to use your finest white sugar.
Whoever named this dessert must have had this recipe. Biting into my big slice of angel food cake with gently whipped cream on top and berries drizzling down the side, I could have died in the moment and been a happy girl.
Angel Food Cake with Fresh Berries and Whipped Cream
INGREDIENTS
10-12 large egg whites, room temperature
1 1/2 cups fine sugar, divided (a few whirls in the food processor and granulated sugar becomes super fine)
1 cup cake flour, sifted
1 tsp. cream of tartar
1/4 tsp. salt
2 tsp. vanilla extract
1/2 tsp. almond extract
DIRECTIONS
1. Preheat oven to 350F.
2. In a small bowl, whisk together 3/4 cup sugar and the cake flour. Set aside.
3. Beat egg whites until frothy, the add cream of tartar and salt. Beat until fully incorporated then begin to add the remaining 3/4 cup of sugar 1-2 tablespoons at a time. When sugar has been added, beat egg whites to soft peaks. You will know when you have soft peaks because the egg whites will look like soft waves and when you lift the beaters, the peaks will droop back down into the batter. If your batter is falling in ribbons, it is not quite done. Don't be afraid to slow down the mixer and check a few times as you get close. Do not beat all the way to stiff peaks. Once you have soft peaks, add the vanilla and almond extracts and beat for a few seconds to evenly distribute.
4. Sift the flour/sugar mixture over the egg whites in 6-8 additions (depending on your proficiency with folding flour into egg whites) and gently fold it in after each addition. It is better to take your time and do it gently than to rush and deflate the egg whites.
5. Spoon batter into an ungreased 9 inch tube pan with a removeable bottom. Smooth the top with a spatula and tap the pan on the counter once or twice to ensure that there are no large bubbles lurking beneath the surface.
6. Bake for 45-50 minutes, until the top springs back when lightly pressed.
7. Remove from oven and invert. Cool to room temperature. (If you are not serving it right away, store in an airtight container so that it doesn't dry out.)
8. Gently run a thin knife around the sides, then around the bottom, of the pan to release the cake when you are ready to serve it. Serve with whipped cream and berries.
(Adapted from Baking Bites)
Berries
INGREDIENTS
2 cups fresh raspberries
2 cups fresh blackberries (I used strawberries instead)
2 cups fresh blueberries
1/4 cup evaporated cane sugar
2 Tbsp. fresh orange juice
DIRECTIONS
1. Combine ingredients in a small bowl. Toss to combine. Cover and chill 1 hour.
Whipped Cream
INGREDIENTS
1 cup whipping cream, chilled
2-3 Tbsp. powdered sugar (to taste)
1 tsp. vanilla extract
DIRECTIONS
1. For perfect whipped cream, use a bowl that's large enough to allow the cream to double in volume. Refrigerate the bowl and beaters for at least half an hour, or place them in the freezer for 15 minutes, and make sure the cream is very cold. Use the freshest whipping cream available, and add sugar, vanilla, or any other ingredients near the end of whipping; adding them too soon in the process will decrease the amount of volume you achieve.
(Directions from Cooking Light)