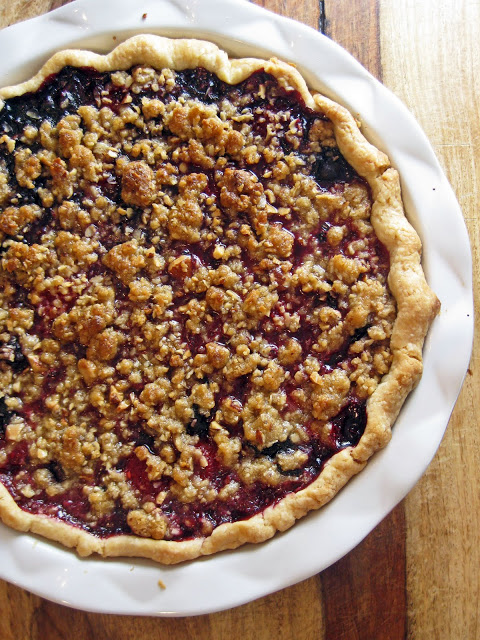 Before this summer, I never considered myself much of a pie lover. Or perhaps it started in the fall when I made my first all-butter pie crust and filled it full of fresh picked apples. Then in the Winter it was pears. Now berries are bountiful and I can't get enough of them piled high in pies. For the 4th of July it was blueberry, and this time I threw in three berries. Instead of a traditional top, this pie comes with a crumble. Almost two desserts in one!
Don't let a fear of pastry prevent you from making your own. I actually consider pies one of the easiest desserts to master. With the help of a food processor, preparing the dough is no work at all. Then you just have to roll it out and fill it full. And bake it until it's golden and bubbling. The hardest part is waiting for it to cool!
Triple Berry Pie with Almond Crumble
INGREDIENTS
1/2 recipe sweet butter pie crust (this recipe makes a double pie crust and you only need a bottom layer)
Almond Crumble:
6 Tbsp. brown sugar
6 Tbsp. whole almonds
6 Tbsp. cold unsalted butter, cut into 1/2-inch cubes
4 1/2 Tbsp. old-fashioned oats
4 1/2 Tbsp. all-purpose flour
Triple Berry Filling:
5-6 cups assorted berries (blueberries, raspberries, and blackberries, about 8 oz. of each)
3/4 cup sugar
1/4 cup quick-cooking tapioca (I would assume several Tbsp. of corn starch could be substituted)
2 Tbsp. freshly squeezed lemon juice
DIRECTIONS
1. Prepare the crust according to recipe directions.
2. To prepare the crumble topping, combine all the ingredients in a food processor. Process until moist clumps form. Refrigerate until ready to use.
3. To make the filling, mix the sugar, tapioca, and lemon juice in large bowl. Add berries and toss gently to combine. Let stand until tapioca softens slightly, stirring occasionally, about 45 minutes.
4. Preheat oven to 400 F. Roll out the dough on a lightly floured surface to form a large round. Transfer to a 9-inch-round pie dish. Trim dough overhang to 1 inch. Fold overhang under and crimp decoratively. Freeze crust 20 minutes.
5. Spoon filling into crust. Crumble topping evenly over filling. Bake pie until crust and topping are golden brown and filling is bubbling, covering loosely with sheet of foil if topping browns too quickly, about 45-55 minutes. Transfer pie to rack and cool at least 3 hours. (Can be made 8 hours ahead. Let stand at room temperature.) Cut pie into wedges and serve.
Makes 1 pie.
(Adapted from Bon Appetit)