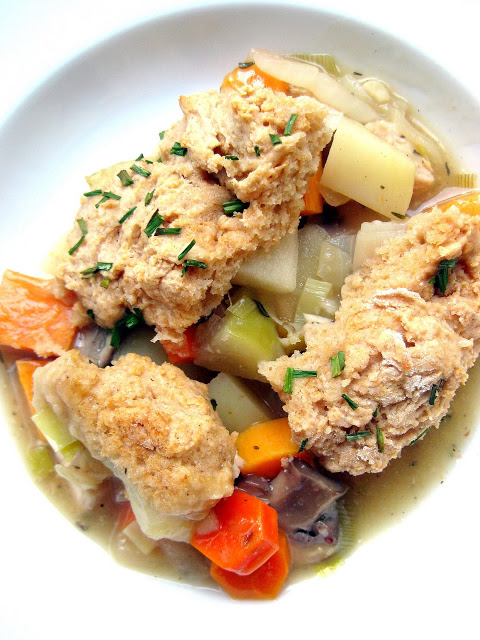 I loved the idea of a cobbler that wasn't dessert. Who can resist fluffy baked biscuits on top of a creamy chicken and vegetable filling? Apparently not us. This dish was supposed to serve eight. Well, Dustin and I finished it off in two days. It's safe to say we thought it was pretty tasty. And luckily, it's rather healthy too. (Besides the few dabs of butter- what are biscuits without butter?) It's made with whole wheat, lots of veggies (even some fruit), and lean protein. And it's super comforting. I tweaked several recipes to come up with this one, my favorite addition being the apple and cranberries. Very autumn. They added a surprising touch of sweetness to this savory dish.
Autumn Chicken and Vegetable Cobbler
INGREDIENTS

Filling:
1 Tbsp. butter
1 large yellow onion, thinly sliced
3 cloves garlic, minced
4 small (or 2 large) leeks, thinly sliced
salt and freshly ground black pepper, to taste
1 tsp. dried thyme
1/2 tsp. dried rosemary
1/4 tsp. crushed red pepper flakes
1 Tbsp. Dijon mustard
5 oz. cremini mushrooms, thinly sliced
1 small sweet potato, peeled and diced (or butternut squash)
several Yukon gold potatoes, diced
1 Granny Smith apple, peeled, cored, and diced
3 medium carrots, thinly sliced
1/4 cup cornstarch + 1/2 cup cold low-sodium chicken broth
3 cups low-sodium chicken broth
1/4 cup sweetened dried cranberries
2 chicken breasts, cooked and shredded or diced
Biscuits:
2 cups white whole wheat flour
1 Tbsp. organic cane sugar
1/2 tsp. salt
1/2 tsp. baking soda
1 Tbsp. baking powder
1 cup + 2 Tbsp. buttermilk
6 Tbsp. butter, melted
fresh chives, chopped for sprinkling on top
DIRECTIONS
1. Preheat oven to 400 F. Lightly grease a 9×13 baking dish with cooking spray.
2. Melt butter in a large pot or Dutch oven over medium heat. Add the onions, leeks, and garlic. Season with salt and pepper and cook until soft, stirring occasionally, about 12 minutes.
3. Add the thyme, rosemary, red pepper flakes, Dijon, and mushrooms. Cook until the mushrooms start to release their juices, about 5 minutes.
4. Add the sweet potato, gold potato, apple, carrots, and chicken broth and bring to a boil. Reduce heat, cover, and simmer until the vegetables are just tender, about 15 minutes.
5. Dissolve the cornstarch in the chicken broth. Add to the simmering vegetables, stirring constantly. When it starts to thicken, stir in the cranberries and chicken. Season to taste with salt and pepper. Pour filling in to the prepared baking dish and set aside.
6. To make the biscuits, whisk to combine the flour, sugar, salt, baking soda, and baking powder in a medium bowl. In a separate bowl, mix together the melted butter and buttermilk. Combine the wet and dry ingredients with as few strokes as possible to make a soft dough. Drop the biscuit batter over the filling. Sprinkle with chopped chives (or another fresh herb).
7. Bake in preheated oven for 15-25 minutes until the biscuits are golden and the filling is bubbling. Serve warm.
Serves 6-8.
(Adapted from Ezra Pound Cake and The Noshery )