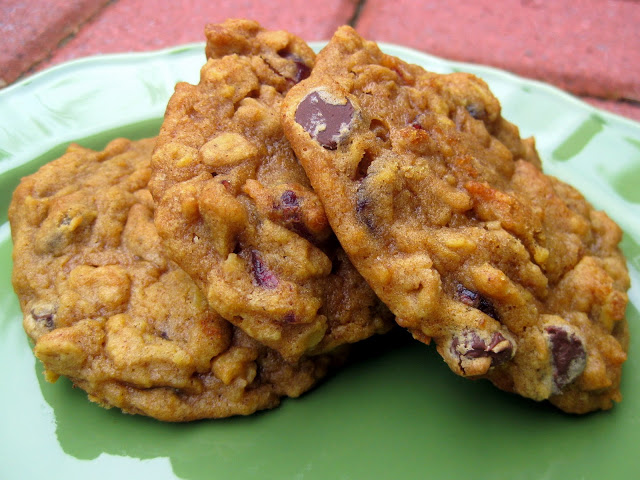 I wanted to sneak in one last post before this weekend. A pumpkin treat for Halloween! Last weekend Dustin was craving chocolate chip cookies. So while I made him a batch of his favorites, I whipped these up for me. You see, Dustin dislikes pumpkin. In any form. It's a terrible shame. It has taken me quite some time to accept this fact and move on. And I no longer try to force my pumpkin baked goods upon him. But it sure doesn't stop me from making them!
This recipe is superbly flexible. You could use dried cranberries, raisins, or cherries. Or try it with milk or white chocolate chips. Even nuts would be a welcome addition. These cookies are soft, chewy, and delicious.
Pumpkin Oatmeal Cranberry Cookies
INGREDIENTS
2 cups all-purpose flour
1 1/2 cups old-fashioned oats
1 tsp. baking soda
1 1/2 tsp. ground cinnamon
1 tsp. pumpkin pie spice
1/2 tsp. salt
1 cup (2 sticks) butter; softened
1 cup packed light brown sugar
1 cup sugar
1 cup pure pumpkin puree
1 large egg
1 tsp. pure vanilla extract
1 cup dried cranberries (or cherries)
1 cup chocolate chips or white chocolate chips (optional)
DIRECTIONS
1. Preheat oven to 350 F. Line a baking sheet with a silicone mat or parchment paper.
2. Combine flour, oats, baking soda, cinnamon, pumpkin pie spice and salt in medium bowl. Beat butter, brown sugar and granulated sugar in large mixer bowl until light and fluffy.
3. Add pumpkin, egg and vanilla extract; mix well. Add flour mixture; combine until all ingredients are incorporated. Fold in cranberries and chocolate chips.
4. Drop by rounded tablespoons onto prepared baking sheets. Bake for 12-14 minutes or until cookies are lightly browned. Cool on baking sheets for 2 minutes; remove to wire racks to cool completely.
Makes 3-4 dozen cookies.
(Adapted from My Baking Addiction)