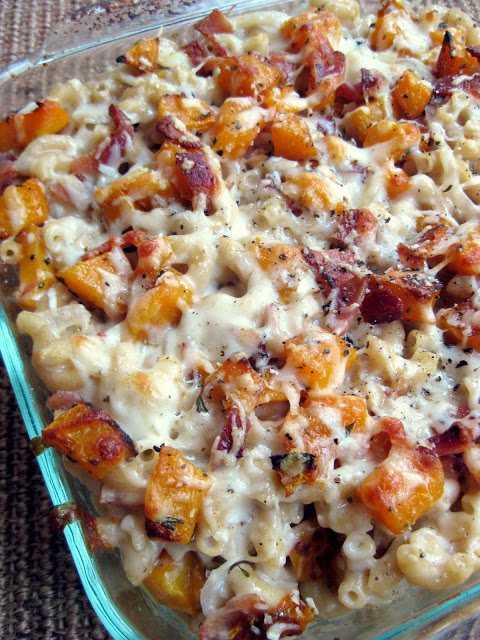 I've always found it interesting that I can look through the same old cookbook (or recipe site) over and over again and each time something new jumps out at me. A recipe that I never noticed lurking there before. And it usually relates to whatever ingredient or cuisine I'm currently obsessing over. For example, had I encountered this recipe in April, my eyes would have glazed right over the page. But in the heart of fall, this bacon and squash pasta dish was screaming my name. It also helps that I'm infatuated with pasta right now. You can probably tell by looking at it that this was wonderful. Rich and cheesy, yes. But not overwhelmingly so. Just enough crispy bacon to add outstanding flavor. And the right amount of bechamel to lubricate the noodles. Oh, and the roasted butternut squash. Like candy, I swear.
Roasted Butternut Squash and Bacon Pasta
INGREDIENTS
1 butternut squash, peeled, seeded, and diced (3 cups diced)
1/2 tsp. dried rosemary (or 1 1/2 tsp. fresh)
1 Tbsp. extra virgin olive oil
kosher salt and freshly ground black pepper
1/4 lb. bacon
1 cup shallots, thinly sliced
2 cloves garlic, minced
2 Tbsp. all-purpose flour
2 cups milk, warmed
pinch nutmeg
8 oz. whole wheat penne, shells, or macaroni
3/4 cup sharp provolone, shredded (I used smoked provolone)
1/2 cup Parmigiano Reggiano, freshly grated
DIRECTIONS
1. Preheat oven to 425 F. Line a large baking sheet with aluminum foil and lightly grease with cooking spray.
2. In a large bowl toss squash and rosemary with olive oil to coat. Season with kosher salt and pepper. Spread in a single layer on the prepared baking sheet. Roast in preheated oven for 30-40 minutes, turning occasionally, until tender and golden.
3. Meanwhile, bring a large pot of salted water to a boil. Cook pasta according to package directions; drain; set aside.
4. Cook bacon in a large skillet over medium heat until crisp. Set aside to drain. Reserve 1 Tbsp. of bacon grease in the skillet. Crumble bacon once cooled.
5. Saute shallots and garlic in the reserved bacon grease over medium heat until tender. Stir in the flour and cook for 30 seconds. Slowly whisk in the milk, 1/2 cup at a time, and bring to a boil. Reduce heat and simmer until thickened. Season with a pinch of nutmeg and salt and pepper to taste.
6. In a large bowl, toss to combine 3/4 of the roasted squash, the cooked pasta, 3/4 of the crumbled bacon, the sauce, and the Provolone and Parmesan (reserving some cheese to sprinkle on top). Pour into a lightly greased 9×9 baking dish. Top with the remaining bacon and squash. Sprinkle with the reserved cheese.
7. Bake in preheated 425 F oven for 10 minutes, until golden and bubbling. Let set several minutes before serving.
Serves 4.
(Adapted from Cooking Light)