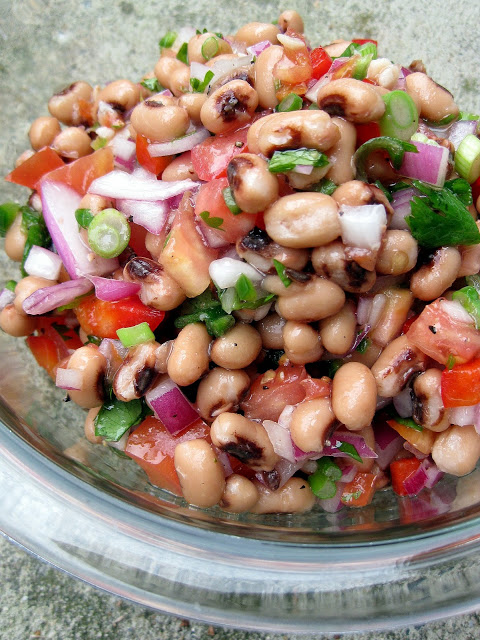 Since I'm living in Richmond and embracing southern customs, I served black eyed peas on New Years Eve. I only recently heard about this tradition. How it originated is up for debate, but I like this version of the story. Supposedly the little beans bring luck. Something I could use a bit of right now. Maybe these lucky beans will bring me an RN position. But it's OK if not, I'm happy to eat them anyway. Lucky or not, they're yummy.
4/23/10: I've been astonishingly on top of things this week! I've posted a new recipe every single day, which seems to be rare lately. It's because the mid-semester mania has come to an end. Things are slowing down at school. I have a few more weeks of finals and then I get a May break (not sure what to call it because I already had spring break in March and will have a summer break in August) before I go back and do it all again. At least summer is a mini semester (only 10 weeks). We still haven't figured out how we're going to spend our one week of overlapping vacation time together. (Dental school and nursing school have not figured out how to coordinate their breaks. Apparently they could care less that Dustin and I will be forever separated by our schedules. It's not much fun to be sitting home, homework free, when you've got no one to share the time with!) So our brains are hard at work (or distracted rather) planning how to make the most of our week of no responsibility. Where to go? What to do (or not to do for that matter!)…?
In the mean time, I'm enjoying the sunshine and warmth, the open windows and sunroofs, the bees I have to dodge every time I open my front door (I'm pretending to appreciate them, anyway), the flowers blossoming, the birds chirping (that wake me up way too early every morning), and the bounty of fresh food that spring brings. My appetite is turning towards light, fresh, summery dishes. Picnics and BBQ's are in our future. Oh, I'm so ready to grill!
This bean salad would be a hit on any occasion this summer. It's quick, inexpensive, and easy. And it's addictive. I started by piling it high on tortillas chips and then gave up the dipping and swallowed it by the spoonful. It's full of fiber and protein from the beans and vitamins from the veggies. Rice wine vinegar makes it slightly sweet and all that onion adds pizazz! More black-eyed peas for me, please!
Black-Eyed Pea Salad
INGREDIENTS
2 cans black-eyed peas, drained and rinsed
1 large tomato, diced
1/2 large red onion, diced
1 small or 1/2 large red, yellow, or orange bell pepper, diced
1 jalapeno, diced
4 green onions, sliced
1/3 cup cilantro, chopped
1/4 cup rice wine vinegar (unseasoned)
2 Tbsp. canola oil
1/2 tsp. organic cane sugar
salt and freshly ground black pepper, to taste
DIRECTIONS
1. Toss to combine black-eyed peas, tomato, red onion, pepper, jalapeno, and green onion in a large bowl.
2. In a small bowl, dissolve sugar in vinegar. Whisk in oil. Season with salt and pepper.
3. Pour dressing over bean mixture. Toss to coat. Stir in cilantro and season to taste with salt and pepper. Refrigerate until ready to serve (the longer it sits the better the flavor will be).
Serves 8.
(Adapted from Food Network)