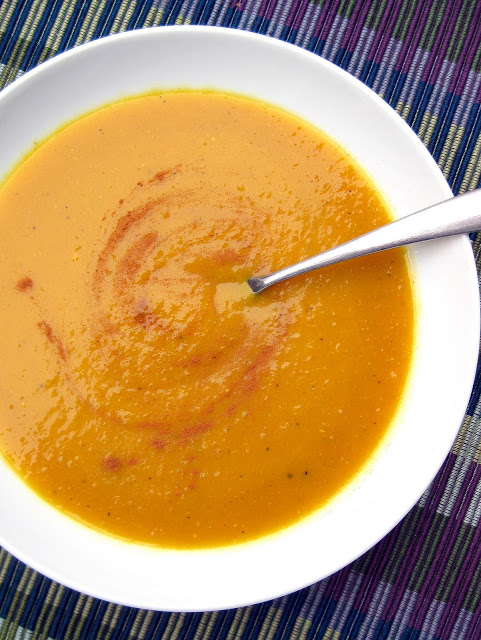 There are a lot of butternut squash soup recipes out there. What caught my attention about this one was the roasted pear. I wanted to see what adding a little fruit would do to my soup. (Good things, it turns out.) I decided to roast the garlic alongside the squash and pears. Roasted garlic is sweet and creamy and mild. Just what I want. The soup has a subtle kick from the curry and ginger. And a dash (or a few) of cinnamon adds warmth. Instead of finishing it off with a glug of heavy cream, I lightened it up with coconut milk. (Also sweet and creamy and complimentary.) Nutritious, flavorful, and filling, this soup is just what you need on a cold winter day.
Curried Roasted Pear and Butternut Squash Soup
INGREDIENTS
1 2-lb. butternut squash, peeled, seeded, and chopped
2 firm ripe Bartlett pears, peeled, cored, and chopped
4 cloves garlic
extra virgin olive oil
kosher salt and freshly ground black pepper
1 Tbsp. butter
1 yellow onion, diced
2 tsp. fresh ginger, minced
1 Tbsp. curry powder
3 1/2 cups homemade or low-sodium chicken broth
1/2 cup lite coconut milk
dash cinnamon
salt and freshly ground black pepper, to taste
DIRECTIONS
1. Preheat oven to 425 F. Line a large baking sheet with aluminum foil. In a large bowl, toss squash, pear, and garlic with enough olive oil to lightly coat. Season with kosher salt and freshly ground black pepper. Spread in a single layer on the prepared baking sheet. Roast in preheated oven for 35-45 minutes, turning occasionally, until tender and golden brown. Remove from the oven and set aside to cool.
2. Meanwhile, heat butter in a large pot over medium heat. Saute onion in butter until soft and translucent (about 10 minutes). Stir in the ginger and curry powder and saute for 1 minute. Add the roasted vegetables and chicken broth and bring to a boil. Reduce heat and simmer 10 minutes. Cool slightly before pureeing in batches in a blender or food processor.
3. Return the soup to the pot over medium-low heat. Stir in the coconut milk. Season with a dash of cinnamon and salt and freshly ground black pepper to taste. Serve warm.
Serves 4-6.
(Adapted from All Recipes)