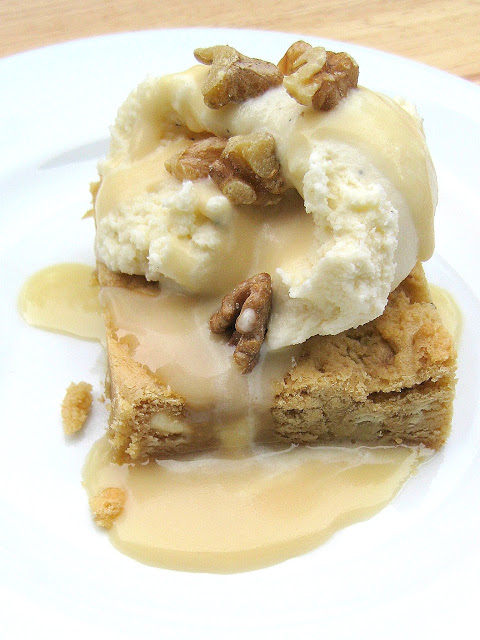 I'm hooked on homemade ice cream. And now that I've discovered an even simpler method for vanilla bean, I might never go back to buying it! So what's the difference between French and Philadelphia-style ice creams? Eggs. French-style incorporates egg yolks to make a custard base that has to be heated to a certain temperature. It's luxuriously soft and rich and creamy. Whereas Philadelphia-style doesn't use any eggs at all, which makes the preparation much quicker. You still heat a little of the cream to infuse the vanilla bean, but there's no thermometers or tempering involved. Super easy! The result is a slightly firmer, icier ice cream. We preferred the Philadelphia-style, especially for pairing with other desserts- such as White Chocolate Walnut Blondies with Maple Cream Sauce (pictured above)!
Philadelphia-Style Vanilla Ice Cream
INGREDIENTS
2 cups heavy cream
1 cup whole milk
1 vanilla bean, split lengthwise
3/4 cup sugar
3/4 tsp. vanilla extract
pinch salt
DIRECTIONS
1. Pour 1 cup of cream into a medium saucepan and add the sugar and a pinch of salt. Scrape the seeds from the vanilla bean into the saucepan and add the pod to the pot. Warm over medium heat, stirring frequently, until the sugar is dissolved. Remove from the heat and add the remaining cup of cream, the milk, and the vanilla extract.
2. Chill thoroughly in the refrigerator (preferably overnight). When ready to churn, remove the vanilla bean, and freeze the mixture in your ice cream maker according to manufacturer's instructions. After churning, freeze for several hours to harden.
Makes about 1 quart.
(Adapted from Brown Eyed Baker, originally from David Lebovitz)