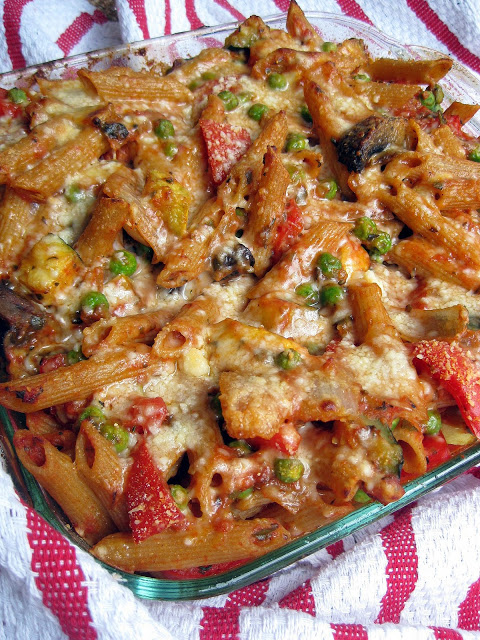 I didn't read my previous post when I decided to revisit this recipe. I was craving pasta and veggies (odd, but true- I was craving vegetables) and remembered how much I loved this dish. I figured it was time to bring it back. So a few days ago I resurrected this baked pasta that was buried deep in the index. And it was just as satisfying as I remembered. With lots of penne and cheese and heavy on the awesome oven-roasted veggies. But what is truly strange is the timing of it all. That I'm coincidentally updating this post on the day my career as a nurse begins. Today was my first in the world of an OR intern. And if you read below, you'll notice that the first time (almost 2 years ago) I shared this recipe, was my first day of nursing school.
I had no clue what I was getting myself into that day 23 months ago. How much I'd go through and how much those experiences would impact me. No glimpse of who or where I am now. And I suspect that a few years down the road I'll say the same thing about today. You had no idea. How challenging and rewarding this job is going to be or how much my life will change. And I don't want to know. If I knew what was ahead it would probably scare me away. So I'm considering this small coincidence a little gift- a reminder of what I've been able to accomplish and the much-needed encouragement that I can do it again. So here's my tribute to a favorite pasta dish and coming a long way since I first shared it here.
5/18/09: Today it happened. My life became insane. I'd been meaning to warn you that this was coming. That all of a sudden I might drop off the face of the planet and you would never hear from me again. (Or at least I'd neglect my blog.) But I got so busy, preparing to be busy, that I forgot to tell you. So here we go: I'm back in school. Nursing school, that is. And it's intimidating and intense and I'm terrified.
For months I moaned about being bored, and so I took up a hobby: chronicling before your eyes my daily cooking adventures. And I grew to love it- to love cooking and writing about it and hearing your reaction to it. Now all that free time has been stolen from me and I want it back! At least enough of it to spend several hours basting a silly bird if I want roast chicken for dinner or making totally unnecessary recipes from scratch, just because. Since I began, meal times have taken on new meaning. I have a new appreciation for food, and for the thought and preparation that goes into a memorable dining experience.
Somehow, I will find the time to keep at it. The frequency of my posts may (OK, will) become more sparse, and the recipes less intricate. But I shall continue, and here's your proof: tonight I'm writing this post instead of reading the four chapters of dense text that I'm supposed to have learned by tomorrow. We're off on the right track. The good news is I have a stash of all-ready-to-post recipes. So even if I don't have the time or energy to cook the next few weeks, I have backup!
I should probably mention something about this recipe- Baked Penne with Roasted Vegetables. It's veggie-licious! These roasted vegetables have exuberant flavor and you will have no trouble getting your daily value when they are baked together with marinara and penne and gooey mozzarella and fontina. I made the full size recipe (it filled one and a half pans) and froze leftovers in single serving containers for school-day lunches. It's one packed lunch I'll definitely look forward to.
Baked Penne with Roasted Vegetables
INGREDIENTS
2 red peppers, cored and chopped
2 zucchini, quartered and chopped
2 summer squash, quartered and chopped
4 large cremini mushrooms, halved
1 yellow onion, chopped
1/4 cup extra-virgin olive oil
1 tsp. salt, divided
1 tsp. freshly ground black pepper, divided
1 Tbsp. dried Italian herb mix or herbs de Provence
1 lb. whole wheat penne pasta
3 cups marinara sauce (store bought or homemade)
1 cup fontina cheese, grated
1/2 cup smoked mozzarella, grated (I used regular mozzarella)
1 1/2 cups frozen peas, thawed
1/4 cup grated Parmesan + 1/3 cup for topping
DIRECTIONS
1. Preheat the oven to 450 F.
2. On a baking sheet, toss the peppers, zucchini, squash, mushrooms, and onions with olive oil, 1/2 teaspoon salt, 1/2 teaspoon pepper, and dried herbs. Roast until tender, about 15 minutes.
2. Meanwhile, bring a large pot of salted water to a boil over high heat. Add the pasta and cook for about 8 minutes (adjust according to directions on package- whole wheat takes longer). Since you will be cooking the pasta a second time in the oven, make sure it is only cooked to al dente. Drain in a colander.
3. In a large bowl, toss the drained pasta with the roasted vegetables, marinara sauce, cheeses, peas, and remaining salt and pepper. Gently mix until all the pasta is coated with the sauce and the ingredients are combined.
4. Pour the pasta into a lightly greased 9 x 13 baking pan. Top with the remaining Parmesan. Bake in preheated oven until top is golden and cheese is bubbling, about 20 minutes.
Serves 8.
(Adapted from Food Network)