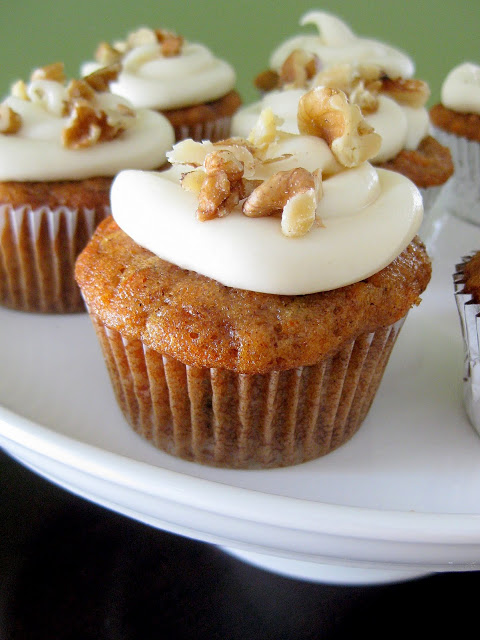 I've spent my week between textbooks and computer screens and the operating room. Dodging scalpels and specimens. Mostly trying to stay out of the way. There's been a lot of reading, so it feels like I'm right back in school. But the best part is I'm getting paid to study, to learn, to observe. To watch laproscopic surgeries and joint replacements. It's a sweet deal. (If you love that kind of thing. I sure do.)
I'm not getting as much quality time cooking. Dinners are rushed and I look forward to the weekend when I can waste a few hours in the kitchen. When I'll have time to bake. Almost every week I pick a treat to make. Last Sunday, in honor of Easter, I chose carrot cake. In the form of cupcakes (which I've never done before). What intrigued me about this recipe was the inclusion of white chocolate in the frosting. White chocolate + cream cheese on top of carrot cake- it sounded amazing! And I'm here today to tell you, it was. These cupcakes were moist and scrumptious! They're stuffed with walnuts and crushed pineapple but you could always add some raisins and shredded coconut to kick it up another notch. So take some time for yourself this weekend and get to baking. Cupcakes are calling…
Carrot Cake Cupcakes with White Chocolate Cream Cheese Frosting
INGREDIENTS

Carrot Cake Cupcakes:
3 eggs
1 1/2 cups white sugar
1/2 cup brown sugar
3/4 cup canola oil
1 1/2 tsp. pure vanilla extract
3 cups carrots, peeled and shredded
3/4 cup crushed pineapple
2 1/4 cups all-purpose flour
2 tsp. baking soda
3/4 tsp. salt
2 1/4 tsp. ground cinnamon
3/4 tsp. ground nutmeg
1/2 tsp. ground ginger
3/4 cup walnuts, chopped + extra for garnish
White Chocolate Cream Cheese Frosting:
8 oz. cream cheese, room temperature
1/2 cup (1 stick) butter, room temperature
2 oz. white chocolate
1 tsp. pure vanilla extract
2 Tbsp. heavy cream
3 cups powdered sugar
DIRECTIONS
1. Preheat oven to 350 F. Line or lightly grease two cupcake pans.
2. In a large bowl, beat eggs and sugars with an electric mixer until frothy. Beat in the oil and vanilla. Stir in the carrots and pineapple.
3. In a separate bowl, whisk to combine flour, baking soda, salt, and spices. Add to the wet ingredients and mix until evenly moist. Fold in the chopped walnuts.
4. Divide batter among the prepared cupcake pans and bake in preheated oven for 18-20 minutes, until a toothpick inserted into the center of a cupcake comes out clean. Remove cupcakes from the pans and cool completely on a wire rack before frosting.
5. To make the frosting, melt chocolate in a small saucepan over medium heat, stirring until smooth. Allow to come to room temperature. Cream butter and cream cheese with an electric mixer until smooth. Mix in the melted chocolate, vanilla, and heavy cream. Gradually beat in the powdered sugar until fluffy. Spread over cooled cupcakes and top with chopped walnuts.
Makes 24 cupcakes.
(Adapted from All Recipes)