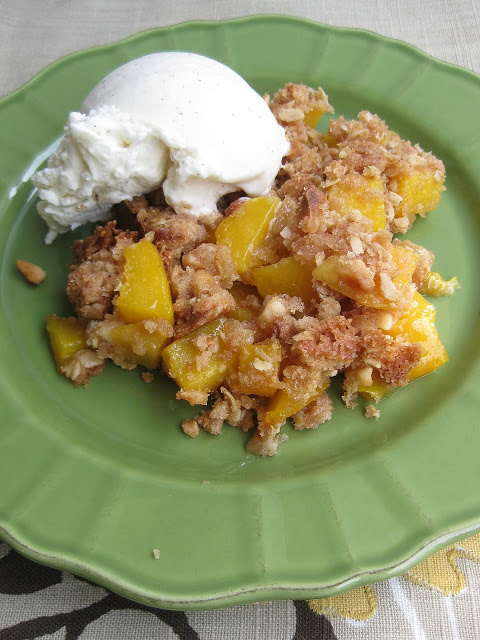 Mango crisp never crossed my mind until recently. I'm crazy about mangoes and wondered for some time how I could incorporate them into a dessert. And then it just came to me. Soft, sweet mangoes bubbling under a crunchy oatmeal crust. With vanilla ice cream melting on top. It sure sounded good in my head. It was one of those rare occasions where I dreamed up what I wanted to make before ever finding a recipe. So I went on a search and found that several other people had the same brilliant idea.
I based my version on a Cooking Light recipe that incorporated macadamia nuts into the crumbled topping and freshly squeezed lime juice in the filling. I spiced it up with ginger and cinnamon, but cardamom and nutmeg sound like plausible options, too. This crisp was just as wonderful as I'd imagined it would be. A light and refreshing tropical treat!
Mango Macadamia Crisp
INGREDIENTS

Filling:
4 cups ripe mango, peeled, pitted, and chopped
1/4 cup sugar
2 tsp. cornstarch
3 Tbsp. freshly squeezed lime juice
2 tsp. butter, melted
Topping:
1/2 cup all-purpose flour
2 Tbsp. brown sugar
1/4 cup sugar
pinch salt
1/2 tsp. ground ginger
1/2 tsp. ground cinnamon
6 Tbsp. cold butter, diced
1/3 cup old-fashioned oats
1/4 cup roasted macadamia nuts, roughly chopped
DIRECTIONS
1. Preheat oven to 400 F. Lightly butter or grease an 8×8 inch baking dish.
2. To make the filling, whisk to combine the sugar and cornstarch. Add mango, lime juice, and butter and toss to coat. Pour into the prepared baking dish.
3. To prepare the topping, whisk to combine flour, sugars, salt, ginger, and cinnamon. Cut in the cold butter with a pastry blender until pea-size chunks remain. Stir in the nuts and oats until the mixture clumps. Sprinkle evenly over the filling. (This step can also be done in the food processor. Mix the flour, sugars, and spices and then pulse in the butter until coarse. Add the nuts and oatmeal and pulse several more times until clumps form.)
4. Bake in preheated oven for 30-40 minutes, until the top is golden brown and the filling is bubbling (cover partway through cooking if it is browning too fast). Let cool several minutes before serving warm with a scoop of vanilla bean ice cream.
Fills an 8-inch square pan.
(Adapted from Cooking Light)