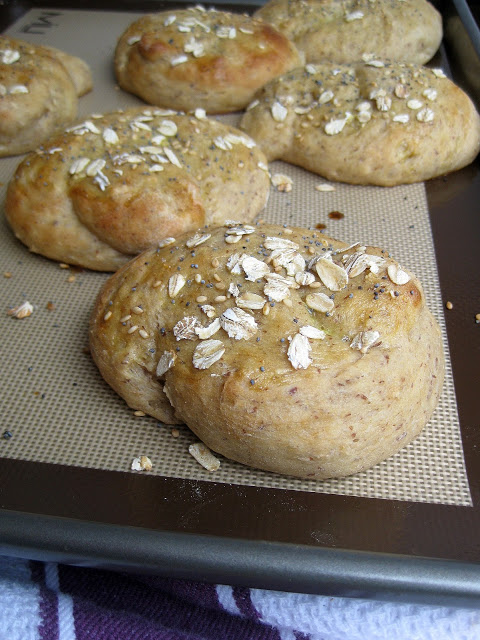 I'm a little behind on finishing this post since I spent the majority of yesterday in a car or on a plane. But now I'm home. I had a splendid time in Utah- despite a few inconvenient days of snow. The friends and family (and food) made it worth putting up with winter for a little longer. And now I've only got a week left before I start my internship. That means a week to make all those time-consuming recipes that I'll never get around to once I'm a working girl. What I always miss the most when I'm busy is having the time to bake bread. Or rolls, pizza dough- anything with yeast that's got to proof and rise. Bread never tastes better than when it comes warm out of your own oven. I guess it makes sense that the best things to eat take the most effort and time to make.
This whole-grain roll recipe comes from Cooking Light and in addition to whole wheat flour, features flax and oats. I was impressed with how high the dough rose and how light these rolls turned out. Although I was too rough when I brushed on the egg wash and my rolls sunk a little before making it into the oven. So they're not as tall as they could have been. But still soft and chewy and completely yummy. Versatile too- serve them with butter for dinner, as a side for soup, or as a healthy sandwich or burger bun.
Whole Wheat Oatmeal Knots
INGREDIENTS
1 cup old-fashioned oats
1/4 cup honey
2 Tbsp. butter
1 1/2 tsp. salt
2 cups boiling water
1 package (2 1/4 tsp.) active dry yeast
1/3 cup warm water (100-110 F)
1/4 cup flaxseed meal
4 cups white whole wheat flour
~1/2 cup all-purpose flour
1 large egg, whisked + 1 tsp. water
1 Tbsp. old-fashioned oats
1 Tbsp. poppy seeds
1 Tbsp. sesame seeds
DIRECTIONS
1. Combine the first 4 ingredients in a large bowl, and add 2 cups boiling water, stirring until well blended. Cool to room temperature.
2. Dissolve yeast in 1/3 cup warm water in a small bowl; let stand 5 minutes. Add yeast mixture to oats mixture; stir well. Stir in flaxseed meal.
3. Lightly spoon flours into dry measuring cups; level with a knife. Gradually add 4 cups whole wheat flour to oats mixture; stir until a soft dough forms. Turn dough out onto a lightly floured surface. Knead until smooth and elastic (about 8 minutes); add enough of all-purpose flour to prevent dough from sticking to hands (dough will feel tacky).
4. Place dough in a large bowl coated with cooking spray, turning to coat top. Cover and let rise in a warm place, free from drafts, 60-90 minutes or until doubled in size. (Press two fingers into the dough. If indentation remains, the dough has risen enough.) Punch dough down, and let rest for 5 minutes.
5. Divide dough in half; cut each half into 8-12 equal portions. Working with one portion at a time (cover remaining dough to prevent from drying), shape each portion into an 8-inch rope. Tie each rope into a single knot; tuck top end of rope under bottom edge of roll. Place each roll on a baking sheet coated with cooking spray. Cover with plastic wrap coated with cooking spray; let rise in a warm place, free from drafts, for 30-60 minutes or until doubled in size.
6. Preheat oven to 400 F.
7. Combine water and egg in a small bowl; brush egg mixture over rolls. Combine oats, poppy seeds, and sesame seeds; sprinkle evenly over rolls.
8. Bake in preheated oven for 10-15 minutes or until golden. Cool on wire racks.
Makes 16-24 rolls, depending on size.
(Adapted from Cooking Light)