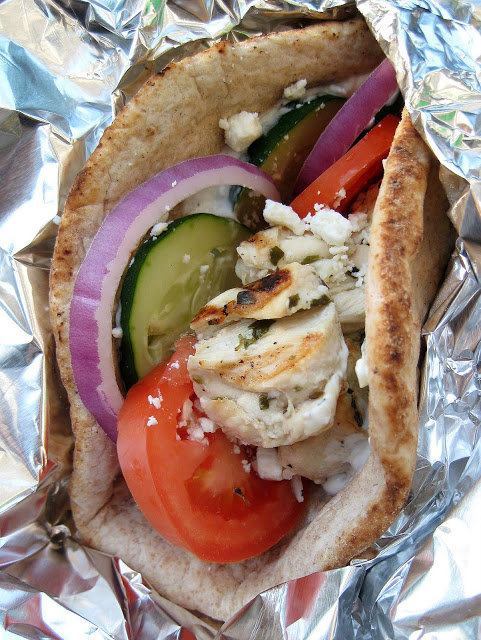 This is one of my favorite quick and healthy dinners that I've just never gotten around to posting before. Chicken souvlaki is the Greek equivalent of fast food. Here that means a previously frozen burger and greasy bag of fries, but in Greece you get flame-grilled marinated chicken with fresh tomatoes and onion and creamy cucumber-yogurt sauce wrapped in a warm pita. How unfair.
Luckily this delicious Greek street food is easy to recreate at home. The chicken only needs half an hour to soak up the flavors from the lemon, garlic, and oregano. In the mean time you can whip up the tzatziki, slice the vegetables, and preheat the grill. I buy chewy soft whole wheat pitas for extra fiber and add a sprinkling of feta on top. And have a napkin ready. The sauce will ooze and chunks of veggie and chicken will attempt to slip out the sides, but it's one delicious mess.
Chicken Souvlaki
INGREDIENTS
1 recipe Marinated Greek Chicken
6 whole wheat pitas, warmed
Roma tomato, thinly sliced
red onion, thinly sliced
cucumber, thinly sliced (optional)
feta, crumbled (optional)
Tzatziki sauce
DIRECTIONS
1. Marinate and grill chicken according to recipe directions.
2. Prepare tzatziki sauce according to recipe directions. Refrigerate until ready to use.
3. Fill warmed pitas with grilled chicken, cucumber, tomato, onion, feta, and tzatziki and serve.
Serves 4-6.