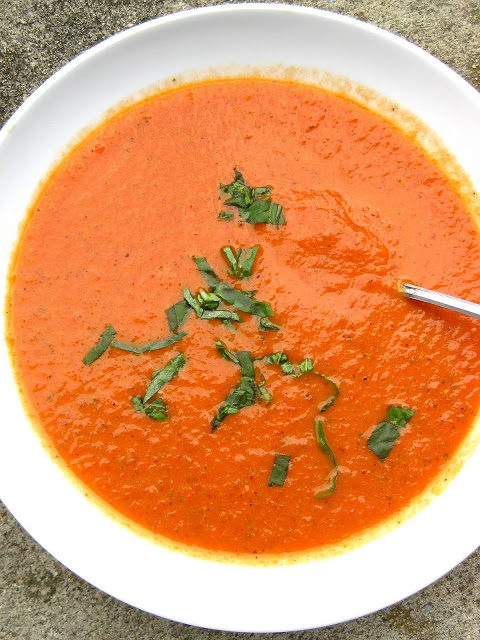 I know that it's spring and you're ready to pull out the flip flops and and sip lemonade, not curl up under a blanket with a bowl of soup. But I'm in the mood for soup year 'round. Especially something light and refreshing like this. And since this soup is made with fire-roasted canned tomatoes and jarred roasted red peppers, it claims no season. (As long as you can get your hands on fresh basil, which it wouldn't be the same without.)
I thought this recipe was terrific for three reasons: flavor, nutrition, and ease of preparation. It manages the perfect balance of roasted tomatoes vs. peppers, the acidity offset with a pinch of sugar. A touch of half and half lends a creaminess without unnecessary calories. And it was very simple to create- saute, simmer, blend, and serve. I packed the leftovers for lunch at work over the next few days and it got even better with age! Make it a meal with hot grilled cheese on whole wheat for dipping.
Creamy Tomato and Roasted Red Pepper Soup
INGREDIENTS
2 Tbsp. extra virgin olive oil
1 yellow onion, chopped
1 carrot, peeled and chopped
2 cloves garlic, minced
salt and freshly ground black pepper, to taste
1 Tbsp. tomato paste
14.5 oz. can fire-roasted crushed tomatoes
12 oz. jar roasted red peppers, drained and chopped
2 1/2 cups homemade or low-sodium chicken or vegetable broth
2 tsp. organic cane sugar
1/2 cup half and half
1/4 cup fresh basil, chopped + extra for garnish
DIRECTIONS
1. Heat olive oil in a large pot over medium-high heat. Add carrot and onion and saute until tender, about 5 minutes. Add garlic and saute for another minute. Season with salt and pepper. Add tomato paste and cook for 1 minute. Stir in the tomatoes, roasted red peppers, and broth. Bring to a boil; reduce heat; simmer 25 minutes until the vegetables are tender.
2. Stir in the sugar, half and half, and basil. Puree with an immersion blender (or food processor) until smooth. Season to taste with salt and pepper. Serve garnished with fresh basil.
Serves 4.
(Adapted from Food Network)