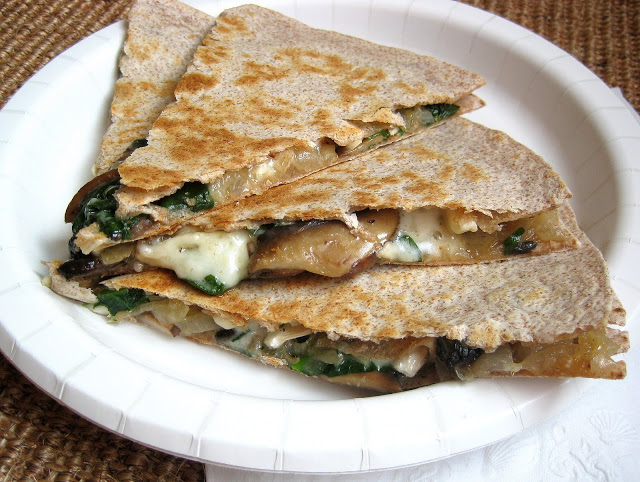 Cooking is a convenient hobby because inspiration comes from everywhere. I could be watching TV, perusing a restaurant menu, or listening to a stranger describe their favorite meal and the creative juices start to flow. Friends and family, the internet, the grocery store- all possible sources for ideas. And the best part is that everyone needs to eat. At least three times a day (usually). So there's no shortage of opportunity to be consuming or dreaming about food.
A few weeks ago I was looking over the online menu of one of my favorite Richmond cafes and a certain quesadilla, stuffed with portobellos, spinach, and brie, caught my attention. We never made it to the restaurant for dinner, but I couldn't get that quesadilla off my mind. The solution? Make it myself. So I rounded up the necessary ingredients, plus a few. I added caramelized onions, which take some time, but make everything better. I sauteed the meaty mushrooms in olive oil, garlic, and balsamic vinegar, and then wilted in the spinach and seasoned it with salt and pepper. With thick slices of brie oozing out the sides of the stove-top charred tortillas, these veggie quesadillas were delicious. Just as good, if not better, than anticipated.
Portobello, Brie, and Caramelized Onion Quesadillas
INGREDIENTS
1 large onion, thinly sliced
2 Tbsp. extra virgin olive oil, divided
salt and freshly ground black pepper, to taste
1 large clove garlic, minced
6 oz. portobello mushrooms (about 2 large), stems and gills removed and sliced
1 Tbsp. balsamic vinegar
handful fresh spinach, chopped
2 large whole wheat tortillas
brie, thinly sliced
DIRECTIONS
1. To caramelize onions, heat 1 Tbsp. olive oil in a large skillet over medium heat. Add onion and season with salt and pepper. Cook, stirring frequently, until soft and caramelized, 25-35 minutes. (Reduce heat as necessary to prevent onions from browning too quickly.)
2. Meanwhile, heat 1 Tbsp. olive oil in a second large skillet over medium heat. Add garlic and cook 1 minute. Add mushrooms and season with salt and pepper. Stir in the balsamic vinegar. Cover and cook, stirring occasionally, until mushrooms are tender. Stir in the spinach and cook until wilted. Season to taste with salt and pepper.
3. Heat a large skillet or griddle over medium heat. Place the tortillas on the skillet and top half of each of the tortillas with thinly sliced brie, half of the caramelized onions, and half of the mushroom-spinach mixture. Fold over the second half of the tortillas. Cook, flipping halfway through, until the cheese is melted and the tortillas are golden brown. Slice and serve.
Makes 2 quesadillas.
(An A Hint of Honey original.)