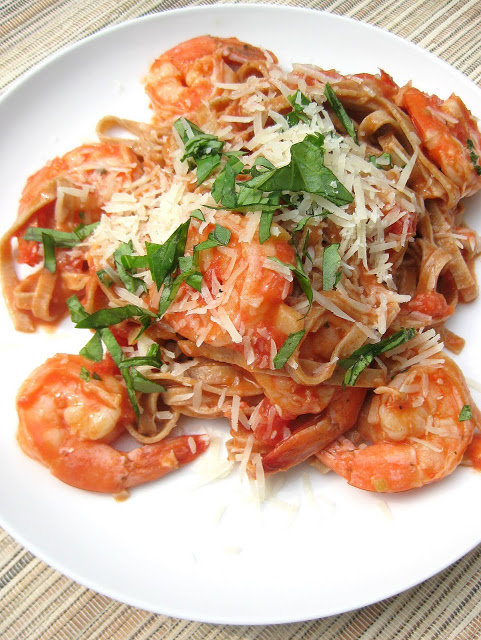 This meal started with a box of fresh whole wheat fettucine from a Richmond pasta shop. (I haven't got the time- or gadgets- to be making fresh pasta of my own. Someday I hope to.) Purchasing the pasta was easy. The hard part- finding a recipe worthy of it. Fresh shrimp happened to be on sale this week at Whole Foods and that led me here. To fettucine with a spicy tomato sauce and big juicy shrimp. Finished with julienned basil and freshly grated Parmesan. To a fabulous restaurant-quality dinner in a hurry.
I have a habit of taking Cooking Light recipes and making them slightly heavier. I don't mess around with low-fat this or light that (a.k.a. more additives and less flavor). I use the real deal. I tend be generous with the cheese. That kind of thing. Not that this dish isn't good for you. It still is. It just tastes like it shouldn't be.
Spicy Shrimp Fettucine
INGREDIENTS
1 lb. whole wheat fettucine
2 Tbsp. extra virgin olive oil
8 cloves garlic, minced
1/2- 1 tsp. crushed red pepper flakes (I used 1/2 tsp. and it was mildly spicy)
1 1/2 lbs. raw shrimp, peeled and deveined
28 oz. can crushed tomatoes (I used crushed tomatoes with basil)
1/4 cup sour cream
2 Tbsp. tomato paste
2 tsp. dried basil (because I used canned tomatoes with basil and fresh basil for serving, I omitted)
kosher salt and freshly ground black pepper, to taste
freshly grated Parmesan cheese, for serving
fresh basil, julienned for serving
DIRECTIONS
1. Bring a large pot of salted water to a boil. Cook pasta until al dente and drain (reserving a little of the cooking water).
2. Meanwhile, heat olive oil in a large skillet over medium-high heat. Add garlic and crushed red pepper and saute 1 minute. Add shrimp, season with salt and pepper, and cook 1 minute. Stir in the crushed tomatoes, sour cream, tomato paste, and dried basil (if using). Bring to a boil; reduce heat; simmer 5 minutes until the shrimp are cooked through (they turn opaque and curl). Season with salt and pepper to taste.
3. Add the cooked pasta and toss to coat. Thin the sauce with some of the pasta cooking water, if desired. Stir in a handful of Parmesan and fresh basil. Serve with extra Parmesan and fresh basil for topping.
Serves 6.
(Adapted from Cooking Light)