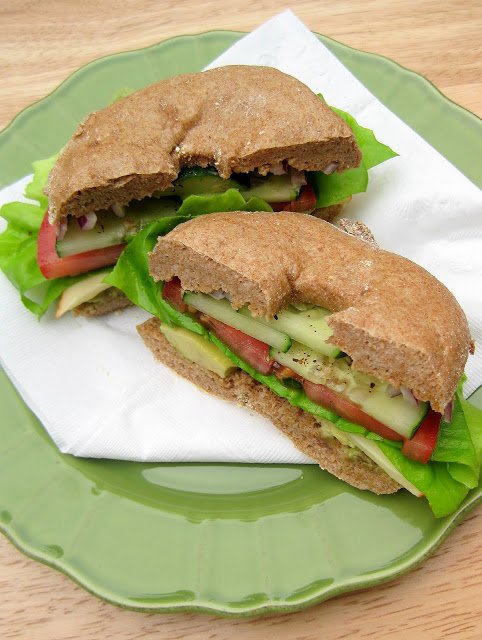 I'm still in the mood for less meat and lots of veggies. And I'm always craving avocado and cheese. Two of my favorite things. Soft chewy whole wheat bagels top the favorites list as well. Basically, I love everything about this sandwich. It's filling and good for me. And it's user friendly. Anyone can toast a bagel, slather it in stone-ground mustard, and pile it high (in no particular order) with veggies and cheese. The hardest part is keeping it in one piece while slicing and eating. The tomato is slippery and slivers of cucumber like to slide out the sides. Otherwise- super easy.
Veggie and Cheese Bagel Sandwich
INGREDIENTS
whole wheat bagel, sliced in half
avocado, sliced
Muenster or Havarti, thinly sliced
butter lettuce
tomato, sliced
salt and freshly ground black pepper
cucumber, thinly sliced
radishes, thinly sliced (optional)
red onion, thinly sliced
alfalfa sprouts (optional)
stone ground mustard
DIRECTIONS
1. Toast bagel. Season tomato with salt and freshly ground black pepper. Layer bottom half of bagel with avocado, cheese, lettuce, tomato, cucumber, radish (optional), onion, and sprouts (optional). Spread mustard on the top half of the bagel. Place on top. Slice and serve.
Makes 1 bagel sandwich.
(An A Hint of Honey original.)