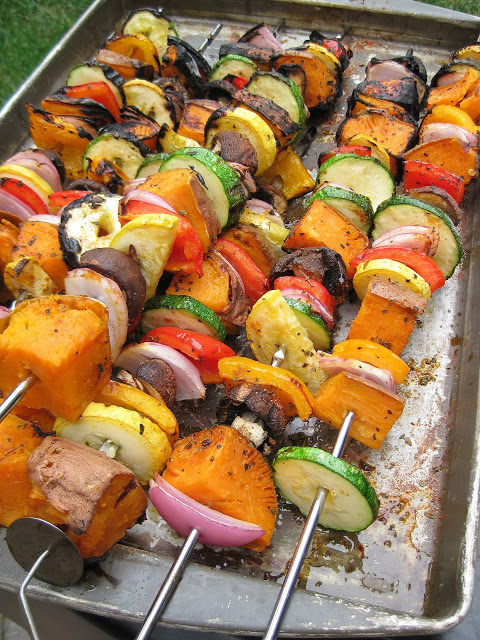 This one I invented. I wanted a quick and easy way to grill sweet potatoes with variety of vegetables to serve alongside burgers. Skewering veggies decreases the risk of them plunging through the grates on the grill. I've had too many casualties in the past and learned my lesson. Plus, kabobs are fun. Anything on a stick seems more appealing. Instead of a marinade I went with a simple spice rub. The prepared skewers are brushed with olive oil and seasoned with salt and pepper and a smoky spice mixture. This recipe can be customized to whatever combination of veggies and spices/herbs you prefer. I haven't included amounts for any specific ingredients because 1) I didn't measure and 2) it doesn't matter. Make as many or as few kabobs as you want. Just don't go too heavy on the seasoning. Let the wonderful flavors of the vegetables shine through.
Grilled Sweet Potato and Vegetable Skewers
INGREDIENTS
sweet potatoes
bell peppers (red, green, orange, etc.)
red onion
zucchini and/or yellow squash
portobello or cremini mushrooms
extra virgin olive oil
kosher salt and freshly ground black pepper
smoked paprika
garlic powder
dried basil
dried oregano
DIRECTIONS
1. Scrub and dry sweet potatoes. Pierce several times with a fork. Bake or microwave until just knife-tender. (You don't want them too soft or they'll fall apart on the grill.) Cool before slicing into cubes.
2. Chop remaining vegetables into bite-size cubes. Thread sweet potatoes and vegetables onto skewers. Brush with olive oil and season with kosher salt and freshly ground black pepper. In a small bowl, combine a spoonful each of smoked paprika, garlic powder, basil, and oregano. Sprinkle over each side of the skewers.
3. Preheat outdoor grill or indoor grill pan to medium-high heat. Grill skewers until the vegetables are tender and slightly charred. Serve immediately.