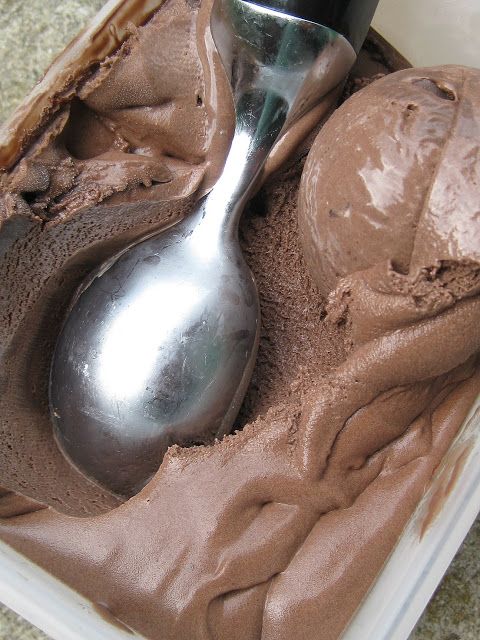 Since Dustin just turned 30 and he loves chocolate (and since no birthday party would be complete without cake and ice cream), I chose this recipe. Out of my ice-cream machine came the most decadent, most intensely chocolatey frozen treat. Thick and rich and almost chewy (if you can imagine such a thing). I used Ghirardelli semi-sweet chocolate chips, but would probably choose bittersweet next time. The darker the better, I say. And while Dutch-processed cocoa powder is recommended, you can get away with regular (or a mixture in my case). I always churn my ice cream at least several hours ahead of when I want to eat it so that it has some time to set up in the freezer. But I won't judge if you end up eating it straight out of the machine. One spoonful and you'll lose all self-restraint.
Chocolate Ice Cream
INGREDIENTS
2 cups heavy cream
3 Tbsp. unsweetened Dutch-process cocoa powder (I used Hershey's Special Dark- a blend of regular and Dutch-processed cocoa)
5 oz. bittersweet or semisweet chocolate
1 cup whole milk
3/4 cup sugar
pinch salt
5 large egg yolks
1/2 tsp. pure vanilla extract
DIRECTIONS
1. Warm 1 cup of the cream with the cocoa powder in a medium saucepan, whisking to thoroughly blend the cocoa. Bring to a boil, then reduce the heat and simmer at a very low boil for 30 seconds, whisking constantly. Remove from the heat and add the chopped chocolate, stirring until smooth. Then stir in the remaining 1 cup cream. Pour the mixture into a large bowl, scraping the saucepan as thoroughly as possible, and set a mesh strainer on top of the bowl.
2. Warm the milk, sugar, and salt in the same saucepan. In a separate medium bowl, whisk together the egg yolks. Slowly pour the warm milk into the egg yolks, whisking constantly, then scrape the warmed egg yolks back into the saucepan.
3. Stir the mixture constantly over the medium heat with a heatproof spatula, scraping the bottom as you stir, until the mixture thickens and coats the spatula (170 F on an instant-read thermometer). Pour the custard through the strainer and stir it into the chocolate mixture until smooth, then stir in the vanilla. Stir until cool over an ice bath. (I skipped the ice bath step.)
4. Chill the mixture thoroughly in the refrigerator, then freeze it in your ice cream maker according to the manufacturer's instructions. (If the cold mixture is too thick to pour into your machine, whisk it vigorously to thin it out.)
Makes about 1 quart.
(Adapted from Brown Eyed Baker, originally from The Perfect Scoop by David Lebovitz)