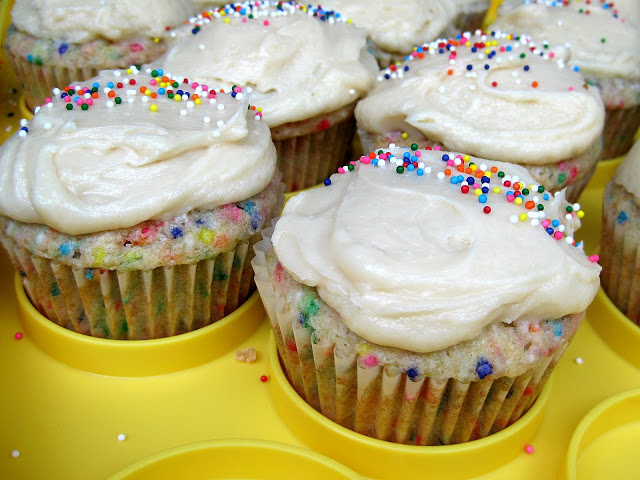 Yesterday was Dustin's 30th birthday. I love birthdays (the celebrating, the presents, the candles and cake…), but this one was a little scary. Thirty seems so grown up, so serious. Are we ready for this?  (Thankfully, I'm the baby in the relationship. No matter how old he is, I'll feel young in comparison! Sorry, hun. That's just how it is.)
Wanting to please Dustin (who loves no frosting more than buttercream), and to feel a little bit like a kid again, I baked Funfetti Cupcakes. Not from a box. From this fast and simple recipe. These sprinkle-studded cupcakes were soft and fluffy and topped with the vanilla buttercream of his dreams. Most importantly, they tasted like childhood.
Homemade Funfetti Cupcakes with Vanilla Buttercream Frosting
INGREDIENTS

Funfetti Cupcakes:
1/2 cup (1 stick) unsalted butter, room temperature
1 cup sugar
2 eggs
1 Tbsp. pure vanilla extract
1 1/2 cups all-purpose flour
1 tsp. baking powder
pinch salt
1/3 cup milk
1/4 cup rainbow sprinkles + more for decorating
Vanilla Buttercream Frosting:
1 cup (2 sticks) unsalted butter, room temperature
2 1/2 cups powdered sugar
1 Tbsp. pure vanilla extract
1 Tbsp. milk, if needed
DIRECTIONS
1. Preheat oven to 350 F. Place paper liners in a 12-hole cupcake pan.
2. Cream butter and sugar with an electric mixer until light and fluffy. Add the eggs and vanilla and beat until well combined. In a separate bowl, whisk to combine the flour, baking powder, and salt. With the mixer on low, add half of the dry ingredients, then the milk, then the remaining dry ingredients, mixing until just combined. Fold in the sprinkles.
3. Pour the batter into the cupcake pan, filling each hole about 2/3 full. Bake in preheated oven for 18-20 minutes, until a toothpick inserted into the center of a cupcake comes out clean. Cool completely on a wire rack before frosting.
4. To make the frosting, beat the butter with an electric mixer until smooth and creamy. With the mixer on low, add the powdered sugar gradually. Increase the speed and add the vanilla. Whip for 2-3 minutes, adding milk if the frosting is too thick or powdered sugar if it is too thin. Spread over cooled cupcakes and top with sprinkles.
Makes 12 cupcakes.
(Adapted from How Sweet Eats)