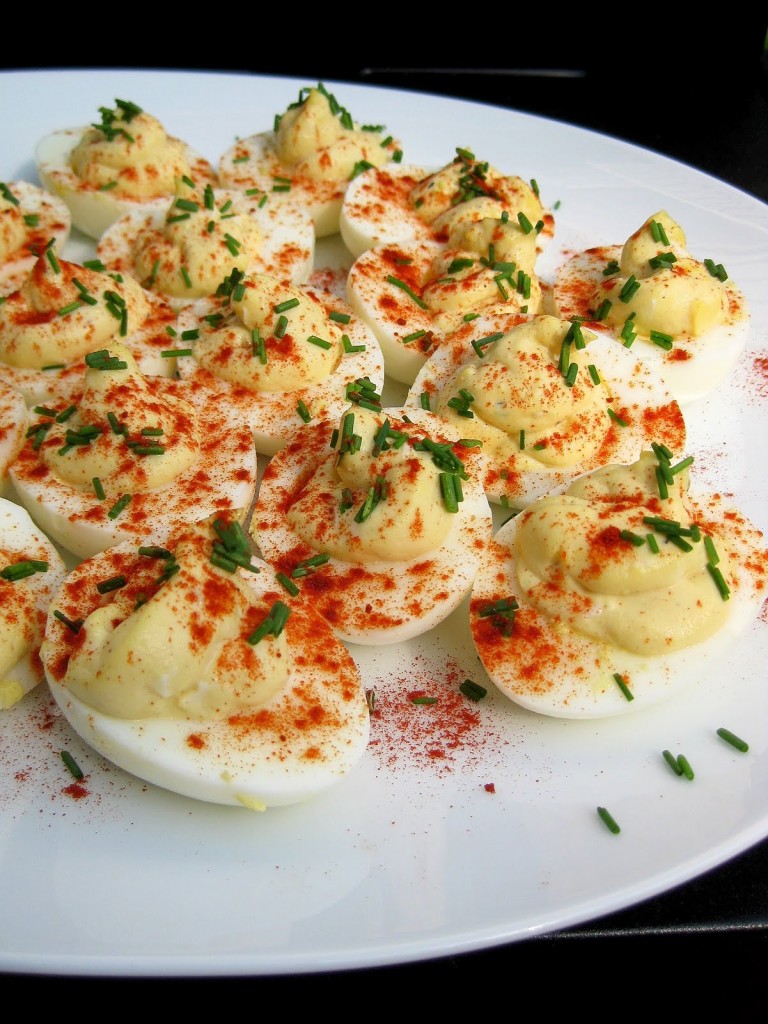 This one is for Dustin. Deviled eggs are not something I would probably ever choose to make for myself. I'm not big on anything mayonnaise-heavy. But he craves all the traditional summer picnic foods- deviled eggs, potato salad- that take no shame in swimming in mayonnaise. Sometimes I just want to make the boy happy. And this is what we end up with.
And I admit that… I really liked these! The filling is creamy and tangy- if not a little too rich.  (I didn't bother to ease up on the calories, but I like the idea of using Greek yogurt to replace some of the mayonnaise.) The chives are crunchy and fresh. Dusted in mild, smoky paprika I found them to be unexpectedly alluring.
Smoky Deviled Eggs
INGREDIENTS
12 eggs
1/2 cup mayonnaise (or a combination of mayonnaise and plain Greek yogurt)
2 tsp. Dijon mustard
2 tsp. white wine vinegar
salt and freshly ground black pepper, to taste
fresh chives, chopped for garnish
smoked paprika, for garnish
DIRECTIONS
1. To hard boil the eggs, place the eggs in a single layer in a large saucepan, covered by at least an inch of cold water. Add a half teaspoonful or so of salt. Place the saucepan over high heat and bring to a rolling boil. Remove the pan from the heat, immediately cover, and let sit 12-15 minutes (depending on the size of your eggs- larger eggs take slightly longer). Rinse the eggs under cold water to stop the cooking (or cool in an ice bath). Once cooled, the eggs can be refrigerated until ready to use.
2. Carefully peel and cut each egg in half lengthwise. Scoop out the yolks into a small bowl. Set the egg whites on a serving platter.
3. To the egg yolks, add the mayonnaise, Dijon, and vinegar. Mash together with a fork until you reach the desired consistency. (I like my filling almost smooth.) Season to taste with salt and freshly ground black pepper.
4. Pipe filling into each egg white. Sprinkle with chives and dust with smoked paprika. Refrigerate until ready to serve.
Makes 24 deviled eggs.
(Adapted from Pinch My Salt)