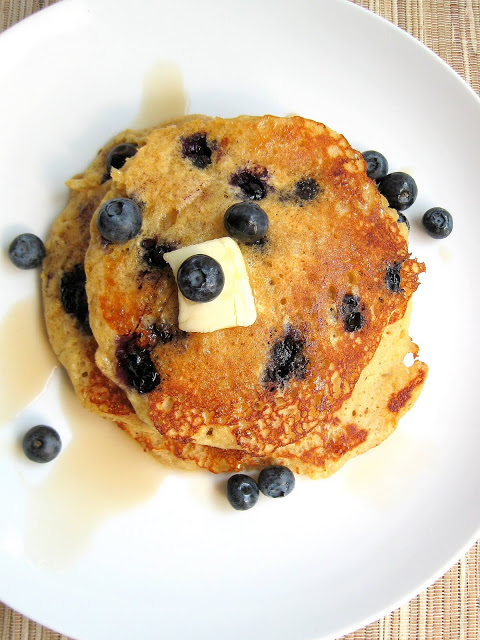 I'm bringing breakfast back. It is definitely the most neglected meal around here and I'm promising to change my ways. Even if we don't eat it at the traditional time of day. You see I am a morning person. The kind that wakes up with the sun, obnoxiously bright-eyed and energetic wayyy too early (no matter how late I was up the night before). For me there is no such thing as sleeping in. So you'd think breakfast would be right up my ally. But I'm not a big meal in the a.m. kinda girl. (Which has a lot to do with some pesky stomach issues that I try not to mention too often. They're not pretty.) So most mornings I eat whole wheat toast or yogurt or a banana. Stomach settling foods. And save the cooking for later in the day.
But breakfast for dinner I can do. And lately that's exactly what has happened. It started with this quiche last week. And then when Sunday rolled around and I couldn't decide what to make for dinner, I turned to pancakes (and chicken sausage and scrambled eggs). And oh my gosh it hit the spot. These blueberry cornmeal pancakes reignited my interest in breakfast foods. This recipe originally came from Martha Stewart and I simply incorporated whole wheat flour and reduced the sugar. The cornmeal gives these pancakes extra oomph- great texture and flavor. I made a full batch and froze the leftovers for snacking. They were wonderful reheated in the microwave and/or toasted the next day.
Blueberry Cornmeal Pancakes
INGREDIENTS
1 cup white whole wheat flour
1/2 cup cornmeal
2 Tbsp. organic cane sugar
1 1/4 tsp. baking powder
1/2 tsp. salt
1/2 tsp. baking soda
1 3/4 cups low-fat buttermilk
3 Tbsp. unsalted butter, melted + extra for the griddle and serving
1 large egg
2 cups (1 pint) fresh blueberries
pure maple syrup, for serving
DIRECTIONS
1. Whisk together the flour, cornmeal, baking powder, salt, and baking soda. In a separate bowl, whisk to combine the buttermilk, butter, and egg. Whisk the wet ingredients into the dry ingredients until just combined (batter will be lumpy).
2. Preheat oven to 200 F. Heat a large griddle or nonstick skillet over medium heat. Brush the griddle with melted butter and spoon the batter onto the griddle, 1/3 cup at a time. Sprinkle with about 2 Tbsp. blueberries per pancake. Cook until edges are set and bubbles form in the center, about 4 minutes. Flip and cook for 2 minutes on the other side, until golden brown. Repeat with remaining batter and blueberries. Keep prepared pancakes warm on a baking sheet in the oven. Serve with butter, pure maple syrup, and more blueberries.
Serves 3-4.
(Adapted from Martha Stewart via The Little Red House)