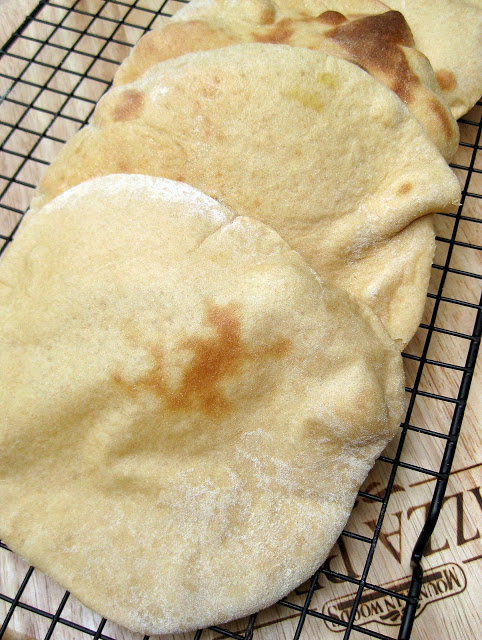 Not up for cooking a few nights ago, we tried a new Lebanese restaurant in Richmond. Everything we ordered was wonderful- except for the pita. It was cold and dry and plain unimpressive. So when I came home with my styrofoam container full of hummus and tabbouleh, I decided to make a proper lunch out of it and make some pita myself. Accompanied by soft warm pita right out of the oven, my meal was better as leftovers! Homemade bread everything really is best.
This go-around I took my own suggestion and misted the tops of the pitas with water as soon as I'd set them on the pizza stone (and then shut the oven as quick as possible to trap the heat). And I think it worked because my pitas puffed beautifully.
3/4/09: Each month, I anticipate the day when I'll open my mailbox to find my very own fresh-off-the-press copy of Cooking Light awaiting me! I'll sink into a cozy spot on the couch and peruse page after page of stunningly photographed delicacies. I tear up post-it notes and bookmark each recipe that beckons my approval. More recently, I discovered that you can go online to their website to find the same exact recipes and read other people's reviews of them. When I'm unsure of whether to try a dish, other reader's opinions are just a few clicks away! On the very last page of this month's issue (March) I found this recipe, and didn't have to think twice. I was definitely making my own pitas- the only question was what to fill them with? I think the Greek yogurt as an ingredient inspired the theme of our dinner. Greek Chicken Kebabs and veggies with Tzatziki Sauce was the perfect filling!
Making these pitas reminded me a lot of making my pizza dough recipe. The only real differences were adding the yogurt, and using a bit more flour. The rise time is similar and they are also best cooked on a pizza stone. Be very gentle in the rolling out process- you want to make sure they stay light and airy so that they puff during baking. It will be much easier to split them open if they've successfully puffed. We ate half the batch last night while they were still piping hot! The rest I've already got stored in the freezer. If you don't have white whole wheat flour you might want to use half all-purpose and half whole wheat to ensure that they aren't too dense. These are 100% better than any store-bought pita I've ever had!
NOTE: I haven't tried this yet but another baking blogger suggested spraying the pita dough with a few squirts of water right as it goes on the hot stone. This is supposed to guarantee perfect puffage! I'm curious and will give it a try next time.
Whole Wheat Pitas
INGREDIENTS
1 tsp. sugar or honey
1 25-oz. package (2 1/4 tsp.) active dry yeast
1 cup + 2 Tbsp. warm water (100-110 F)
2 1/2 cups white whole wheat flour + extra for kneading
2 Tbsp. Greek yogurt (2% recommended)
1 Tbsp. extra virgin olive oil
3/4 tsp. salt
DIRECTIONS
1. Dissolve sugar and yeast in warm water in a large bowl and let stand 10 minutes.
2. Add flour, yogurt, oil, and salt to the yeast mixture. If using a mixer, beat at a medium speed until smooth. If making by hand, mix ingredients until flour is absorbed and smooth.
3. Turn out the dough on a lightly floured surface. Knead until smooth and elastic (about 5 minutes) adding more flour if needed to prevent dough from sticking to hands.
4. Place dough in a large bowl coated with cooking spray, turning to coat top. Cover and let rise in a warm place for about 45 minutes or until doubled in size.
5. Position oven rack on the lowest shelf. Preheat the oven (and a pizza stone if you have one) to 500 F.
6. Divide the dough into 8 equal portions. Working with one portion at a time, gently roll each portion into a 5-6 inch circle.
7. Place dough circles (4 at a time) on baking sheets coated heavily with cooking spray. (Or if you are using a pizza stone they can go directly onto the preheated stone- careful it will be HOT! You might want to dust it with cornmeal or semolina flour first to prevent sticking.) Bake, 1 sheet at a time, for 5-8 minutes, or until puffed and lightly browned. Cool on a wire rack.
Makes 8 pitas.
(Adapted from Cooking Light)