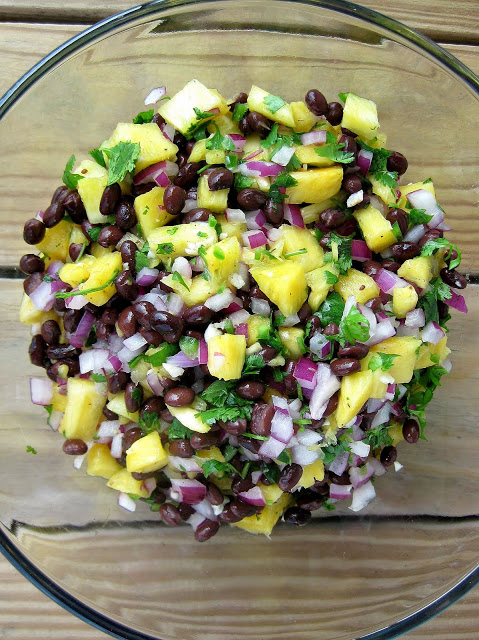 In the midst of all the craziness here at our crowded beach house, I've managed to make a recipe or two. This one is not so new but deserves a repeat. Just a few spoonfuls of this salsa (because that's all you might get when you're sharing with over a dozen others) is worth the work and the effort. And the five dollars spent on the only ripe pineapple I could find in our vicinity. Something about combining juicy fruit with pungent raw ingredients (onion, jalapeno, cilantro) boosts its flavor to a whole new level. I served this sweet salsa with baked tortilla chips alongside these fresh fish tacos.
5/1/10: I intended to pair this with grilled chicken or fish, but I got so impatient to try it that I abandoned hope of it becoming a main dish and ended up devouring it all with tortilla chips. At least now I know that this salsa is sensational and that it would be excellent on top of just about anything! Quite often I consult seasonal growth charts to figure out what fruits and veggies are currently in season. Right now, pineapple is in. Not in Richmond, VA mind you, but somewhere in the world (like Oahu) it's pineapple season. And I can purchase a juicy ripe pineapple that has possibly traveled farther than I ever have, to become my snack. As much as I promote using local ingredients, I'm just outta luck in this case. This salsa is fruity and sweet (without a speck of added sugar), and if you choose, spicy too! It'll be awesome any way you serve it.
Pineapple Black Bean Salsa
INGREDIENTS
2 cans black beans, drained and rinsed
1 pineapple, cored, peeled, and diced
1 large bunch cilantro, coarsely chopped (to taste)
1 small red onion, diced
3 cloves garlic, minced
3 limes, juiced
1 jalapeno, minced
sea salt and freshly ground black pepper, to taste
DIRECTIONS
1. In a large bowl, toss to combine black beans, pineapple, onion, garlic, lime juice, and jalapeno. Stir in cilantro and season with sea salt and freshly ground black pepper to taste. Refrigerate until ready to serve.
Serves 8.
(Adapted from The Nourishing Gourmet)