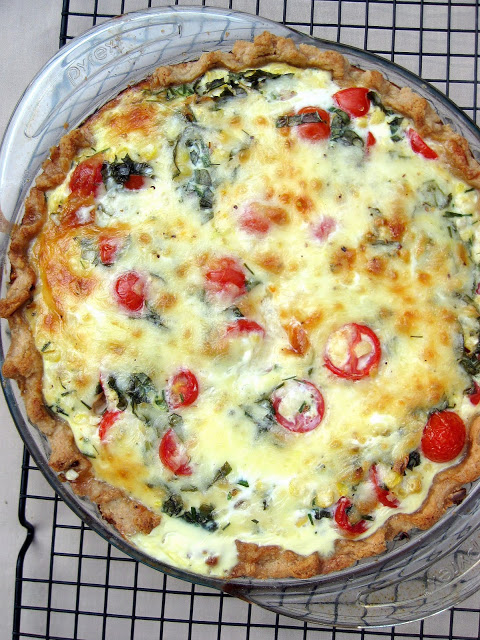 This recipe was meant to make a pie. A pie filled with tomatoes (intriguing), Cheddar (getting even better), and gobs of mayo (ick!).  I'm sure that such a creation would taste good, but I can't bring myself to bake or eat such a mayo-heavy dish. So that's why my tomato pie became a quiche. A lovely cheesy quiche filled to the brim with grape tomatoes, sweet corn, caramelized onions, and fresh herbs. And a rich and flaky butter pie crust (in which I successfully replaced most of the flour with whole wheat). If you're trying to save some calories you could ditch the crust altogether. I've been known to go crustless on occasion. I served this for dinner, alongside a balsamic-dressed salad of baby greens, shredded carrot, red onion, and dried cranberries. As a main dish it could probably stretch to serve four. Should I admit that ours didn't go near that far?
Tomato and Fresh Corn Quiche
INGREDIENTS
1 butter pie crust (I replaced 1 cup of the all-purpose flour with whole wheat and had to use slightly more water)
1 Tbsp. extra virgin olive oil
2 yellow onions, thinly sliced
2 cups cherry or grape tomatoes, halved and seeded
2 ears corn, kernels sliced off
3 eggs
1 cup milk
1 packed cup sharp white Cheddar
2 Tbsp. fresh basil, chopped
1 Tbsp. fresh chives, chopped
salt and freshly ground black pepper
DIRECTIONS
1. Prepare crust according to recipe directions. (Make sure to pre-bake the crust for 10-15 minutes in a 450 F oven until lightly browned.)
2. To caramelize the onions, heat 1 Tbsp. olive oil in a large skillet over medium heat. Add the onions and season with salt and pepper. Cook, stirring occasionally, until the onions and soft and golden brown, about 25-35 minutes, reducing the heat as necessary to prevent burning.
3. Preheat oven to 350 F. Scatter onions in the bottom of the pre-baked crust. Top with the tomatoes, corn, basil, and chives.
4. In a medium bowl, whisk to combine the eggs, milk, and cheddar. Season generously with salt and freshly ground black pepper. Pour over the filling.
5. Bake in preheated oven for 45-60 minutes, until the center is set and the top is golden brown. Let cool slightly before serving.
Makes a 9-inch round quiche.
(Adapted from Eat Make Read)