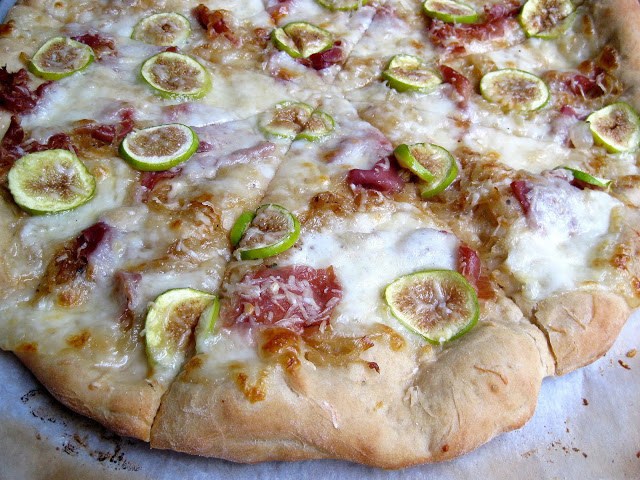 I've been looking forward to figs all year. So much so that back in July when I spotted the first few pints (direct from California) on display at Whole Foods I whisked one home immediately- only to be sorely disappointed. Those figs were mushy and tasteless and I drove myself right back there and got a refund. Those babies weren't cheap. But it was my hopes that were crushed more than my budget. So I refrained from making any more such purchases until September, once fig-season was in full swing. The wait paid off. My second set of figs was tender yet firm, juicy, and sweet. One of the most heavenly things I've yet to eat.
The first thing I made with my long-awaited fresh figs was pizza. I topped my usual chewy crust with salty prosciutto and cheese and sweet caramelized onions and figs. Amazing. I only wished I'd had more figs. They had succumb to my nibbling long before the pizza dough had risen. Oh well. Some things can't be controlled.
Just a note: I opted to top my pizza with fresh mozzarella and Parmesan. But I think that thinly sliced brie or crumbled gorgonzola or goat cheese would be equally as tempting.
Fig and Prosciutto Pizza with Caramelized Onions
INGREDIENTS
1 recipe pizza dough
1 Tbsp. extra virgin olive oil
2 large yellow onions, halved and thinly sliced
salt and freshly ground black pepper
3 oz. prosciutto, thinly sliced
1 pint (or more) figs, thinly sliced
8 oz. fresh mozzarella, sliced
1/2 cup Parmigiano Reggiano, freshly grated
DIRECTIONS
1. Prepare pizza dough according to recipe directions.
2. To caramelize the onions, heat 1 Tbsp. olive oil in a large skillet over medium heat. Add the onions and season with salt and pepper. Cook, stirring frequently (and reducing the heat as necessary to prevent burning), until the onions are soft and golden brown, about 30-40 minutes. Set aside.
3. Preheat oven and pizza stone to 450 F.
4. Prepare crust according to recipe directions. Top prepared crust with caramelized onions, prosciutto, figs, and mozzarella. Sprinkle with Parmesan. Bake in preheated oven for about 10 minutes, until the cheese is bubbling and the crust is golden brown.
Makes 1 large pizza.