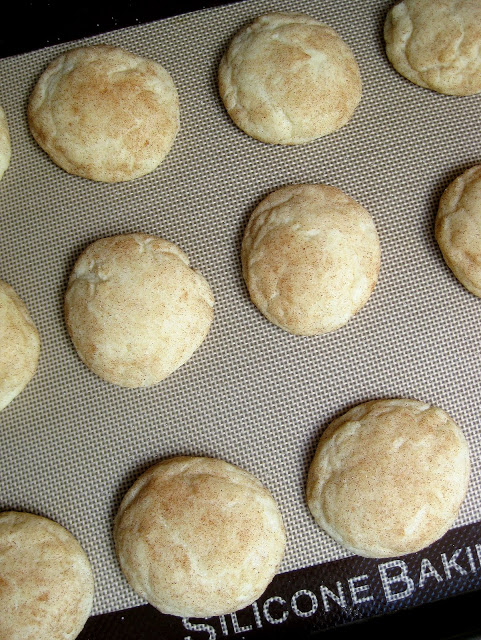 How I love cinnamon. Cinnamon rolls, cinnamon swirl loaves, cinnamon-spiced cakes, even ice cream. I can always count on cinnamon to bring me to a happy place. When I need a quick cinnamon fix I turn to snickerdoodles- the classic cinnamon 'n sugar dusted cookies. You'll be able to taste these cookies long before you bite into them. The smells of butter and sugar and cinnamon permeating every part of your kitchen (or entire house if its small like ours). If the aroma is too much to resist you can always freeze the remainder of the batch. That way they might last a little bit longer.
7/28/09: When I started typing out this recipe one ingredient in particular caught my eye. Baking soda? I don't remember using any baking soda. In fact, I remember reaching for my trusty tin of baking powder, and dumping in two whole teaspoonfuls. So I double checked the recipe. Yep, baking soda. Every single snickerdoodle recipe in the world calls for baking soda, NOT baking powder (I checked most of them).
So I was a little scatterbrained that night. I must have been on painkillers- or something. There has to be an excuse. But now I recall that on Sunday when I was making Blueberry Crumb bars (coming soon) I used the wrong measuring cup, dumping in 1/3 cup sugar instead of 1/4. Well nobody is going to complain about that. Those turned out delish.
Luckily, neither mistake was fatal. These snickerdoodles were a tad bit on the airy side. Soft, like biting into a cinnamon-sugar dusted pillow. I'm almost embarrassed to admit, this was only my second experience with snickerdoodles. I was introduced to them last week, and have ever since been lamenting the fact that my childhood was devoid of their presence. It should be a crime.
So this is the way they should be made. With baking soda. Next time I'll get it right.
Snickerdoodles
INGREDIENTS
1 cup butter
1 1/2 cups white sugar
2 eggs
1 tsp. vanilla extract
2 3/4 cup all purpose flour
2 tsp. cream of tartar
1 tsp. baking soda
1/4 tsp. salt
1/4 cup white sugar
2 tsp. cinnamon
DIRECTIONS
1. Preheat oven to 400 F.
2. Cream butter and sugar. Add the eggs and vanilla and cream until light and fluffy.
3.. In a separate bowl combine the flour, cream of tartar, baking soda, and salt. Blend the dry ingredients into the wet, mixing by hand.
4. In a small bowl, mix together the 1/4 cup sugar and cinnamon. Shape the dough into small balls and roll them in the cinnamon-sugar to coat. Place 2 inches apart on an UNgreased cookie sheet.
5. Bake in preheated oven for 6-10 minutes (depending on size) until the tops are set and the bottoms are beginning to brown. Remove from the cookie sheet and cool on a wire rack.
Makes 3-4 dozen cookies.
(Adapted from All Recipes)