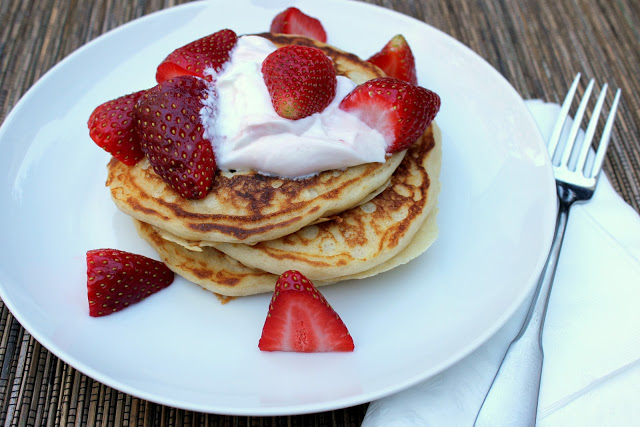 This is the basic pancake recipe I've been waiting for. Nothing fancy or unusual about this breakfast specialty. Easy to whip up on a whim and reliably satisfying. We've had pancakes for breakfast and/or lunch or dinner several times over the last few weeks. Pregnant and picky, I eat whatever sounds good to me (and that I can get down without regretting) and lately, this has been it! Luckily, my husband loved them too and hasn't complained about the pancake overdose- yet. This makes a big batch (if you're only serving 2 1/2), but the best part is they can be frozen and reheated to enjoy later. Pop 'em in the microwave to defrost followed by a minute in the toaster and you've got breakfast on the go! They're perfect served with butter and syrup. Or opt for Greek yogurt, a drizzle of honey, and out-of-season strawberries, like me.
On a non-food note, I was lucky and thrilled to get a Canon Rebel camera for Christmas. I've yet to use it out of automatic mode though. (And this is the first picture it has taken to grace this blog.) I'm a DSLR novice and currently know nothing about manual settings. I'm amazed that's I've gotten by the last three years using a point and shoot and figure it's about time I learned how to be a "real" photographer. But just a warning that my photos will probably get worse before they get better. I'm fully expecting to suck at first. We've signed up for a photography workshop and have some expert friends who have offered to show us the ropes. I'd be happy for any recommendations on photography books, websites, or classes (preferably in the Richmond vicinity) that could help a girl out…
Best Buttermilk Pancakes
INGREDIENTS
2 cups all-purpose flour (I used 1 cup all-purpose and 1 cup white whole wheat flour)
2 Tbsp. sugar
2 tsp. baking powder
1/2 tsp. baking soda
1/2 tsp. salt
2 cups buttermilk
3 Tbsp. unsalted butter, melted
1 large egg
DIRECTIONS
1. Preheat griddle over medium heat (we set our electric griddle at 350 F).
2. Whisk the flour, sugar, baking powder, baking soda, and salt together in a large bowl. In a separate bowl, whisk the buttermilk, butter, and egg together. Pour the wet ingredients into the dry and gently whisk until just incorporated with a few lumps remaining (don't overmix, the batter will be fairly thick).
3. Brush the preheated griddle with butter. Pour batter in 1/4-cup portions onto the griddle and cook until golden brown and bubbling. Flip and cook until golden on the other side. Serve warm.
Makes 12-15 pancakes.
(Adapted from One She Two She)