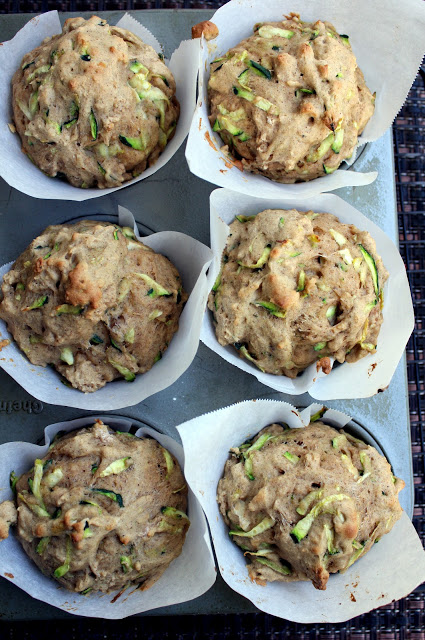 I think my love of muffins is in my genes. One of my little sisters (I have three!) started cooking and posting recipes on her blog recently. As of when I checked today, 8 of her 40 posts (that's 1 in 5, or 20% if you like to do math, like me) were muffin recipes. (And that doesn't count the pumpkin bread, banana bread, etc. that could be easily mistaken for muffins in a different form.) Luckily, she too likes to eat healthy. And so most of her muffins contain whole wheat and other nutritious things. Like I said, muffins must run in the family.
It had been far too long since I spent the afternoon whisking together a bowl of muffin batter, impatiently staring through the oven door as the muffins formed their peaks under the heat, and then helped myself to two or three long before they cooled properly. And that's how it went today. These were soft and moist, flecked with chunks of walnut and shreds of zucchini. One of my favorite healthful snacks to have on hand. (I freeze whatever I don't devour instantly and reheat them throughout the week.)
Zucchini Walnut Spice Muffins
INGREDIENTS
2 cups white whole wheat flour
1 cup all-purpose flour (or use all whole wheat flour)
1 Tbsp. baking powder
1 tsp. salt
2 tsp. cinnamon
1 tsp. pumpkin pie spice (I used 1/2 tsp. allspice + 1/4 tsp. nutmeg + 1/4 tsp. cloves)
1/2 cup brown sugar (you can add up to 1/4 cup more sugar, but I thought they were plenty sweet)
2 eggs
1/4 cup canola oil (I replaced with 1/4 cup unsweetened applesauce)
3/4 cup milk
1 tsp. pure vanilla extract
1 1/2 cups zucchini, grated
1/2 cup walnuts, chopped
DIRECTIONS
1. Preheat oven to 350 F. Lightly grease or line a 12-cup muffin pan.
2. In a small bowl, whisk to combine flours, baking powder, salt, and spices. In a large bowl, whisk to combine sugar, eggs, oil (or applesauce), milk, and vanilla. Slowly stir to combine the wet and dry ingredients (don't overmix). Fold in the zucchini and walnuts.
3. Spoon batter into the prepared muffin pan. Bake in preheated oven for 18-20 minutes, until a toothpick inserted into the center of a muffin comes out clean. Cool on a wire rack.
Makes 12 muffins.
(Adapted from For the Love of Cooking)