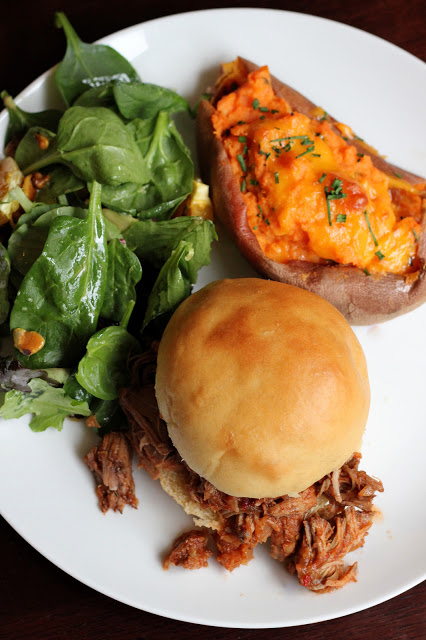 This was the main event in our family dinner Sunday. Something I could throw together the night before and have on the table with the littlest of effort the next day. My sister declared it her favorite pulled pork ever. And I'd have to agree that the flavors here are pretty perfect. Just a bit smokey. Ever-so-slightly sweet. Even spicy if you up the pepper flakes (I was conservative in this regard because baby-on-the-way doesn't appreciate heat). Served with this salad and these sweet potatoes.
Pineapple Pulled Pork Sandwiches
INGREDIENTS
3-4 lbs. pork shoulder (Boston butt), cut into 2-inch cubes
1 onion, diced
1/2 cup ketchup
1/3 cup cider vinegar
1/4 cup brown sugar
1/4 cup tomato paste
2 Tbsp. worcestershire sauce
2 Tbsp. sweet paprika
2 tsp. salt
1 tsp. freshly ground black pepper
1 tsp. crushed red pepper (or more to taste)
20 oz. can crushed pineapple
soft wheat sandwich rolls, for serving
DIRECTIONS
1. Combine all ingredients in a large slower cooker. Cover and cook on low for 8 hours until tender.
2. Remove the pork from the liquid and let the liquid cool before skimming the fat off the top. Meanwhile, remove the bones and gristle and shred the pork with two forks. Return the pork and some of the juices to the slower cooker to keep rewarm. Serve on soft wheat sandwich rolls.
Serves 6-8.
(Adapted from What's Gaby Cooking)