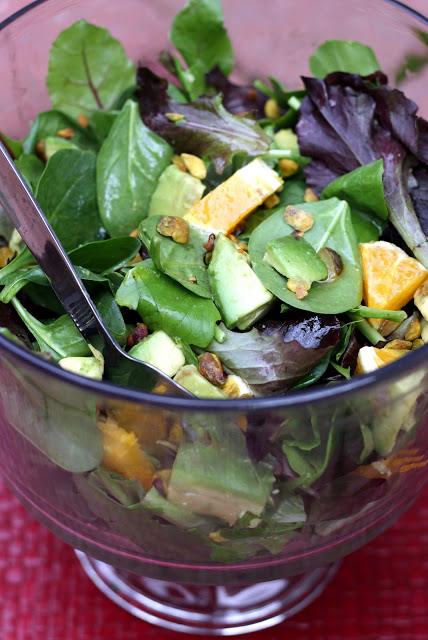 As much as I'm ready for spring and relishing these 70 degree days (well, yesterday was warm and sunny- today it's snowing), I'm still enjoying winter eating. This season brings the best of citrus and what better way to enjoy an orange than in a tangy-sweet salad accompanied by creamy avocado and nutty pistachios. I whipped together a honey-orange vinaigrette to drizzle atop. I was hosting (half) my family for dinner and this salad disappeared quick. A new winter favorite.
Spinach Salad with Oranges, Avocado, and Pistachios
INGREDIENTS
6 oz. baby spinach
6 oz. mixed greens
2-3 navel oranges
2 avocados, pitted and diced (toss in a squeeze of orange juice to prevent browning)
pistachios, toasted
Honey-Orange Vinaigrette:
2 Tbsp. orange juice
1 Tbsp. white wine vinegar
1 tsp. Dijon mustard
1 tsp. honey
3 Tbsp. extra virgin olive oil
salt and freshly ground black pepper, to taste
DIRECTIONS
1. To make the vinaigrette, whisk to combine the orange juice, vinegar, Dijon and honey. Slowly stream in the olive oil while whisking constantly to emulsify. Season to taste with salt and freshly ground black pepper.
2. In a large bowl combine spinach, mixed greens, oranges, avocado, and pistachios. Drizzle with vinaigrette, toss, and serve.
Serves 6-8.
(Adapted from Serious Eats)