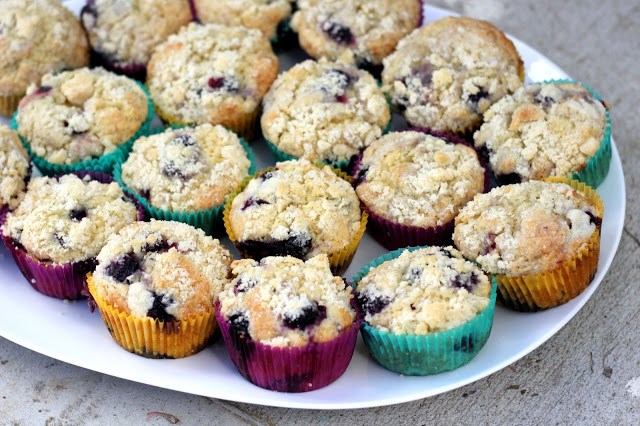 Oh, my my my. These are good. But my conscience won't let me recommend them to you without a disclaimer: they are nothing but dessert! So sweet and sinful (and butter-full) that I can't justify them as anything else. But go ahead, devour them anyway. You shouldn't be having browned butter blueberry muffins for breakfast every day. But once can't hurt, right?!
I had never browned butter before. And it scared me a little. I kept a close watch on the saucepan, and, after what seemed like too long, voila!, the butter turned brown! A glorious golden brown with an astonishing aroma. It gives these cupcakes muffins a distinguished taste. I'm not sure how well frozen berries would hold up in this recipe. I do have one trick to share: before adding your berries to the batter, dust them lightly with flour. This prevents them from sinking to the bottom. You will have picture perfect muffins with evenly distributed blueberries!
Browned Butter Blueberry Muffins
INGREDIENTS
7 Tbsp. unsalted butter
1/3 cup whole milk or buttermilk (or low-fat milk works, too)
1 large egg
1 large egg yolk
1 tsp. pure vanilla extract
1 1/2 cups all-purpose flour
3/4 cup sugar
1 1/2 tsp. baking powder
3/4 tsp. salt
2 cups fresh blueberries (frozen in a pinch)
Crumb topping (makes more than you'll need):
3 Tbsp. cold unsalted butter, but into tiny cubes
1/2 cup all-purpose flour
3 1/2 Tbsp. sugar
DIRECTIONS
1. Preheat oven to 375 degrees F. Line muffin pan with paper or foil liners.
2. Melt butter in a small saucepan over medium heat. Keep an eye on the butter. Melt and cook down the butter until little brown bits appear in the pan. The crackling will subside and butter will begin to brown fairly quickly after that. Keep a close eye. Remove from heat.
3. Whisk milk, egg, yolk and vanilla until combined. Add the brown butter and stir to combine.
4. Whisk together flour, sugar, baking powder and salt in a medium bowl Add milk and butter mixture all at one and stir gently to combine. Gently but thoroughly fold in the blueberries.
5. Divide the batter among muffin cups and spread evenly.
6. To make the topping combine all of the ingredients in a bowl and rub together with your fingertips until crumbly. Sprinkle evenly over the batter in the cups.
7. Bake until golden and crisp and a wooden pick inserted into the center of a muffin comes out clean, about 18-20 minutes. Cool in pan on a rack for 15 minutes then remove from the pan. Serve warm or at room temperature.
Makes 1 dozen muffins.
(Adapted from Joy the Baker)