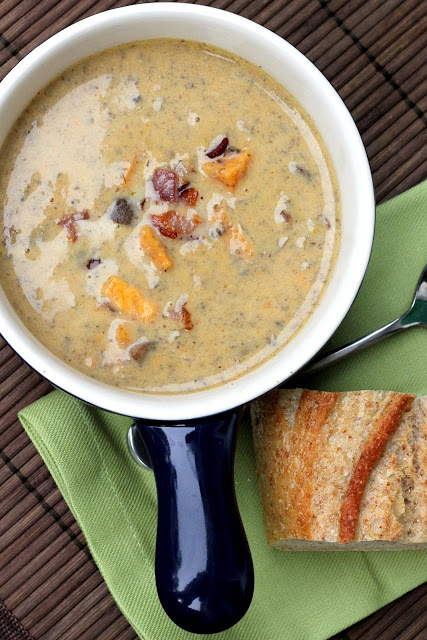 I fell in love with this recipe long before I tasted it. Just a glance at its list of ingredients and I was infatuated. I had to have it. And as soon as the opportune day (of the dreary cold variety that are meant for soup encounters) presented itself, it was a date. As predicted, this chowder and I got along swell. Who wouldn't hit it off with a bowl of steaming bits of crispy bacon, chunks of hearty mushroom and sweet potato, and smooth smoky gouda? Creamy and hearty and wholesome. I suppose you could leave out the bacon and make it even healthier (and vegetarian) or use plain 'ol white potatoes instead of yams. But I wouldn't bother. This dish is perfect just the way it is.
Mushroom, Sweet Potato, and Smoked Gouda Chowder
INGREDIENTS
6 slices bacon, diced
1 onion, diced
1 lb. cremini mushrooms, sliced
2 large sweet potatoes (about 2 lbs.), peeled and cubed
2 cloves garlic, minced
pinch dried thyme
1 bay leaf
2 1/2 cups vegetable broth (or chicken broth)
1 cup half and half
4 oz. smoked gouda
salt and freshly ground black pepper, to taste
DIRECTIONS
1. In a large pot or dutch oven, cook the bacon until crisp. Remove the bacon and set aside.
2. Add the diced onions and the mushrooms to the bacon fat in the pot. Season with a little salt and pepper, and cook until the moisture released from the mushrooms evaporates and the vegetables start to brown, about 10-15 minutes.
3. Add the sweet potatoes and garlic, stirring to combine. Add the thyme, bay leaf, and stock. Bring to a boil, then reduce to a simmer. Cook until the sweet potatoes are tender, about 15 minutes. Return most of the bacon to the pot, leaving a little extra to garnish the soup.
4. Remove the bay leaf. Puree as much or as little of the mixture as you want in a food processor, and return the pureed soup to the pot (alternatively, use an immersion blender). Add the half and half and the gouda. Simmer until the soup has heated through and the cheese has melted. Season to taste with salt and freshly ground black pepper. Serve, garnished with the extra bacon.
Serves 4-6.
(Adapted from Our Life in Food)