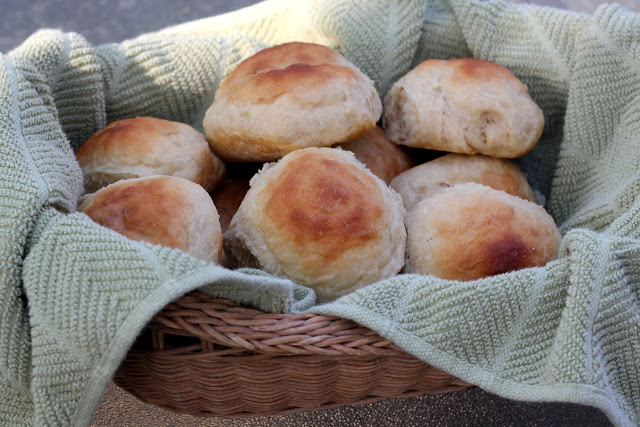 Another recipe I revisited over the weekend. This was my contribution to our unconventional Easter feast. We were staying with my parents and instead of the usual ham we had grilled vegetables, baked potatoes, and roasted salmon. And
this salad
(minus the feta- still spectacular) and these yogurt rolls. They didn't rise as high as I remembered but they were still unbelievably silky soft and perfectly sweet. They pair well with a pat of butter and spoonful of jelly, yet are also divine in their naked state.
4/1/09
: This recipe is a keeper! It makes comforting, pillow-soft rolls that have the slightest hint of honey. I found these yogurt rolls on Baking Bites and made a few small changes: used part white whole wheat flour, olive oil instead of vegetable, and turned down the oven temp to make sure they cooked through before turning too brown. It must be the yogurt that gives them their silky smooth texture and moist middle. The original recipe says it yields 10 rolls, which if you are going to be making sandwiches might be
appropriate
(but they will be quite large and need lots of room to expand). For more normal dinner-sized rolls you should easily be able to get more out of a batch.
I was tearing off steaming pieces of hot rolls before I had even pulled them out of the oven and couldn't stop eating them all night long. This morning I've already taken several trips back to the freezer…each time telling myself I'll just have one more! Too much of a good thing definitely does not exist in this case. Don't let me prevent you from making them in fear of eating a whole pan (although doing so in one sitting is never recommended). You can sleep easy (with a tummy full of soft yummy rolls), knowing that they are almost fat free, have a minimal amount of natural sugar, and are completely whole grain (nutritious, essential carbs)!
Soft Yogurt Sandwich Rolls
INGREDIENTS
3 1/2-4 1/2 cups all-purpose flour (I used half all-purpose and half white whole wheat flour)
1 Tbsp. active dry yeast
3 Tbsp. honey
1 cup warm water (110-112 F)
1 cup plain yogurt (nonfat is fine, so is Greek)
1 Tbsp. extra virgin olive oil
1 1/2 tsp. salt
DIRECTIONS
1. In a large mixing bowl, combine 1/2 cup flour, the active dry yeast, the honey and the warm water. Stir well and let sit for 10 minutes, until slightly foamy. Stir in yogurt, oil, salt and 2 cups of the remaining flour. Gradually stir in more flour until you have a soft dough that sticks together pulls away from the sides of the bowl (This can all be done in a stand mixer with the dough-hook attached as well).
2. Turn out dough onto a lightly floured surface and knead, adding additional flour if necessary to prevent sticking, until dough is smooth and elastic, about 5 minutes. Place in a lightly greased bowl, cover with plastic wrap and let rise for 1 hour or until doubled in size.
3. Turn risen dough out of bowl and onto a lightly floured surface. Gently deflate, pressing into a rectangle. Divide dough into a dozen even pieces. Shape each piece into a round roll. Place on a baking sheet lined with parchment paper or coated with cooking spray. Cover with a clean dish towel and let rise for 25 minutes.
4. Preheat oven to 350 F. Bake for 15-20 minutes, until rolls are golden on the top and the bottom. Cool on a wire rack. Store in an airtight container or in the freezer.
Makes a dozen + rolls.