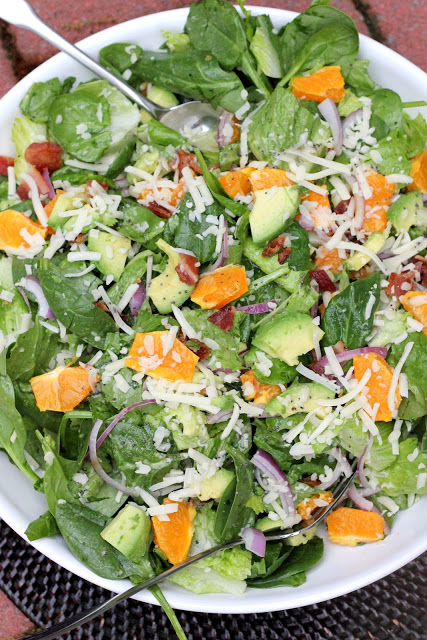 I love salads. But I hate when they're ruined by a ridiculously sugary dressing. Salad is not meant to be dessert. It's meant to be healthy. And you don't need a cup-full of sugar to make it taste good. (Or technically any at all, but a little can be quite pleasing.) So when I come across a dressing that calls for an obscene amount of sugar, it usually doesn't stop me from trying it- I just know I have to do a little tweaking. Such was the case with this recipe. With avocado and bacon and mandarins- it instantly caught my attention. But something had to be done about the dressing. I decreased the sugar content drastically, and you know what? It's still plenty sweet. And it doesn't overpower the brightness of the citrus, the real show-stopper here.
Spinach Mandarin Poppy Seed Salad
INGREDIENTS
8 oz. spinach
2-3 romaine hearts, chopped
2 avocados, peeled, pitted, and diced
8-10 mandarin oranges, peeled and segmented with knife
1/2 red onion, thinly sliced
handful swiss or gruyere, shredded
8-10 slices bacon, cooked until crisp and crumbled
Poppy Seed Dressing:
2 Tbsp. white wine vinegar
1 tsp. stone ground mustard
1 Tbsp. sugar
1/4 cup canola oil
1 tsp. poppy seeds
salt and freshly ground pepper, to taste
DIRECTIONS
1. To make the dressing, whisk to combine vinegar, mustard, and sugar in a small bowl. Slowly stream in the oil while whisking constantly to emulsify. Whisk in the poppy seeds and season to taste with salt and freshly ground black pepper.
2. In a large serving bowl combine the spinach, romaine, avocado, orange, onion, cheese, and bacon. Drizzle with the dressing. Toss and serve.
Serves 8-10.
(Adapted from Our Best Bites)