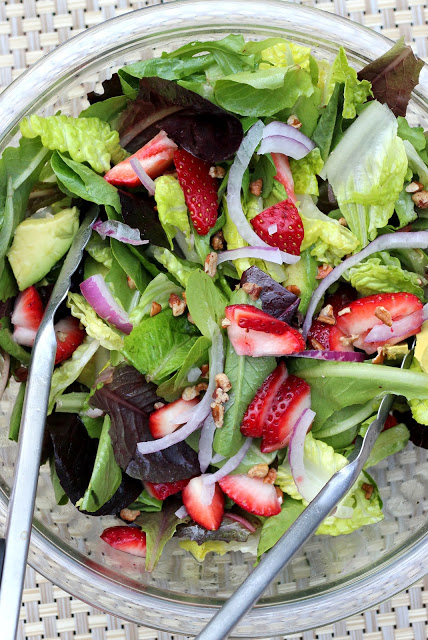 I'm bringing this favorite back again, updated with a new photo and addition of red onion. Now that I'm no longer pregnant I can enjoy onions again so I'm sneaking them into everything! Thin slivers of crunchy raw onion make this salad even more enticing. With strawberries and avocado tossed in a tangy sweet vinaigrette- it's the perfect start to your summer.
4/7/10: Since strawberry season will soon be upon us, I thought I'd bring back this recipe. Whenever I can get fresh strawberries, it finds our way on to our dinner menu. I'm thrilled that spring (yes it is still spring, even though at a predicted 94 F today in April, it feels much  more like summer!) has decided to stay. That means we're nearing the most wonderful time of the year- for fruit anyway! I've waited all winter long for fresh berries. Spring, I'm so glad you're here!
1/8/09: I was lucky enough to find both ripe avocados and strawberries on sale on my last grocery trip. (Not exactly in season in the dead of winter.) Although it is more of a summer dish, I couldn't wait to try this salad, which turned out to be refreshing and perfect! The dressing is sweet, yet tangy and light. I served it (paired with soup and sandwiches) to my mother and her parents who were in town for lunch today. And I determined it a success when my mother exclaimed that it was "even better than Panera!"
Strawberry Avocado Salad
INGREDIENTS
2 Tbsp. extra virgin olive oil
1 Tbsp. honey
1 Tbsp. cider vinegar
1 tsp. lemon juice
dash of salt and freshly ground black pepper
romaine, chopped
avocado, peeled, pitted and sliced
strawberries, sliced
pecans, toasted and chopped
red onion, thinly sliced (optional)
DIRECTIONS
1. In a small bowl, whisk together the olive oil, honey, vinegar, and lemon juice. Season with a dash of salt and pepper. Set aside.
2. Toss the avocado in a little of the dressing to prevent browning. Place the salad greens in a bowl and top with sliced avocado and strawberries. Drizzle dressing over top, then sprinkle with pecans and serve.
Serves 2.
(Adapted from All Recipes)