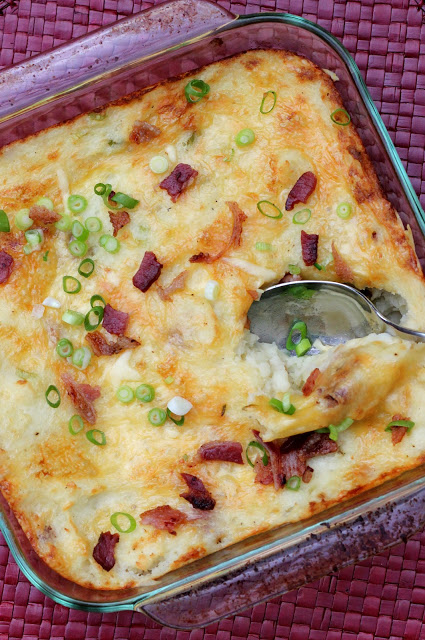 This will probably be the last recipe to come from my Richmond kitchen. We're finally packing and we load up and pull out for good Saturday morning. I have mixed emotions about this move. Usually I'm all about new places and new people. But I've loved it here. It has only been four years but this is home. We've spent the majority of our married lives here, started a family here. I hope Chicago will be so good to us.
I plan on cooking and blogging again. As soon as things get settled and our life regains some sort of routine. Motherhood has been a big change, but it definitely won't keep me out of the kitchen and away from you! So until then- I leave you with this creamy cheesy not-so-waistline friendly mashed potato casserole. Bacon, gouda, sour cream… I probably don't need to tell you that it's heavenly.
Mashed Potatoes with Gouda and Bacon
INGREDIENTS
8 slices bacon
5 large green onions, finely chopped
3 lbs. russet potatoes, peeled and cubed
1/2 cup sour cream
1/4 cup butter
1/3-1/2 cup milk (to desired consistency)
2 cups (about 8 oz.) smoked gouda, grated
salt and freshly ground black pepper, to taste
DIRECTIONS
1. Butter a 9×13 baking dish. Cook bacon until browned and crisp. Transfer to paper towels to drain. Chop bacon. Place in a medium bowl and add green onions; toss to combine.
2. Place potatoes in a large pot and add enough water to cover. Sprinkle with salt. Cover and boil with lid slightly ajar until tender, 15-20 minutes. Drain.
3. Add the sour cream, butter, and milk to the pot. Using a potato masher, mash until almost smooth. Add more milk to thin if necessary. Stir in 1 1/2 cups smoked gouda and 1 cup of the bacon-onion mixture. Season to taste with salt and freshly ground black pepper. Spread in the prepared baking dish. Top with remaining cheese.
4. Preheat oven to 375 F and bake for about 30 minutes until the edges are bubbling and the top is golden. Top with the remaining bacon-onion mixture and serve.
Serves 6-8.
(Adapted from Bon Appetit)