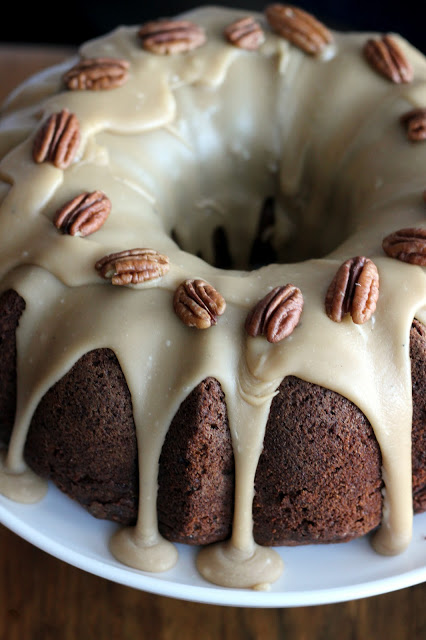 After a month and a half of meals devoid of milk, cheese, and anything creamy, I had to celebrate my return to dairy with something sensational. So I baked this cake. With chunks of apples and pecans, spicy cinnamon, allspice, and nutmeg, and a rich swirl of cream cheese hiding in the center. And a generous drizzle of praline frosting on top. It was wonderful. (And it feeds a crowd.)
Oh butter, how I missed you.
Clara still has reflux. Eliminating dairy from my diet didn't yield significant improvement in her symptoms. I wanted it to work, but at the same time I'm glad it didn't. (It wasn't particularly easy or convenient and once it was clear that she was still suffering, it became incredibly hard for me to adhere.) Medication has helped though. And so has, it seems, giving up chocolate. Supposedly caffeine, even in the smallest dose, can aggravate reflux. So bring on the cream and forget the cocoa- for now.
Apple Cream Cheese Bundt Cake
INGREDIENTS

Cream Cheese Filling:
8 oz. cream cheese
1/4 cup butter, softened
1/2 cup sugar
1 large egg
2 Tbsp. all-purpose flour
1 tsp. vanilla extract
Apple Cake Batter:
1 cup pecans, finely chopped
3 cups all-purpose flour
1 cup sugar
1 cup light brown sugar
2 tsp. cinnamon
1 tsp. salt
1 tsp. baking soda
1 tsp. ground nutmeg
1/2 tsp. ground allspice
3 large eggs, lightly beaten
3/4 cup canola oil
3/4 cup unsweetened applesauce
1 tsp. pure vanilla extract
3 cups apples, peeled and finely chopped (I used Fuji)
Praline Frosting:
1/2 cup light brown sugar
1/4 cup butter
3 Tbsp. milk
1 tsp. pure vanilla extract
1 cup powdered sugar
DIRECTIONS
1. To prepare the filling: Beat first 3 ingredients at medium speed with an electric mixer until blended and smooth. Add egg, flour, and vanilla; beat just until blended.
2. To prepare the batter: Preheat oven to 350º. Bake pecans in a shallow pan 8 to 10 minutes or until toasted and fragrant, stirring halfway through. Stir together 3 cups flour and next 7 ingredients in a large bowl; stir in eggs and next 3 ingredients, stirring just until dry ingredients are moistened. Stir in apples and pecans.
3. Spoon two-thirds of apple mixture into a greased and floured 14-cup Bundt pan. Spoon Cream Cheese Filling over apple mixture, leaving a 1-inch border around edges of pan. Swirl filling through apple mixture using a paring knife. Spoon remaining apple mixture over Cream Cheese Filling.
4. Bake at 350º for 1 hour to 1 hour and 15 minutes or until a long wooden pick inserted in center comes out clean. Cool cake in pan on a wire rack 15 minutes; remove from pan to wire rack, and cool completely (about 2 hours).
5. Prepare Frosting: Bring brown sugar, butter, and milk to a boil in a saucepan over medium heat, whisking constantly; boil 1 minute, whisking constantly. Remove from heat; stir in vanilla. Gradually whisk in powdered sugar until smooth; stir gently 3 to 5 minutes or until mixture begins to cool and thickens slightly. Pour immediately over cooled cake.
Serves 12.
(Adapted from Southern Living)