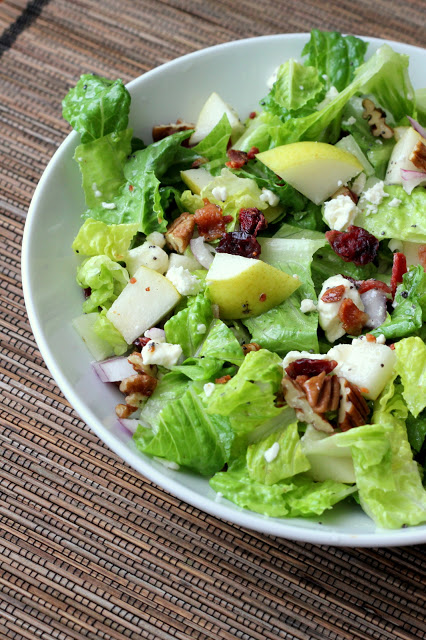 This recipe is wildly popular on Pinterest. (I've yet to create an account on there yet. But I do search through "pins" occasionally. Usually looking at food.) And when I saw it, like everyone else, I thought it looked amazing. Pears, bacon, pecans. Yes, please. But I was a bit disappointed to to find it called for bottled dressings (two actually- balsamic and poppyseed- mixed together). Since vinaigrettes are so simple, I decided to make my own. I whisked white balsamic vinegar (regular balsamic can be used- it will alter the color but still taste great) with a dab of Dijon, a spoonful of honey, and a drizzle of grapeseed (or use another neutral-flavored) oil. Sweet and tangy and light. Salad perfection.
Autumn Chopped Salad with Balsamic Poppy Seed Vinaigrette
INGREDIENTS
Autumn Chopped Salad:
romaine lettuce, chopped
pear, cored and diced
sweetened dried cranberries
bacon, cooked and crumbled
red onion, diced (optional)
feta, crumbled
White Balsamic Poppy Seed Vinaigrette:
2 Tbsp. white (or regular) balsamic vinegar
1/2 tsp. Dijon mustard
1 Tbsp. honey
1 tsp. poppy seeds
1/4 cup grapeseed or canola oil
salt and freshly ground black pepper to taste
DIRECTIONS
1. To make the vinaigrette, whisk to combine vinegar, mustard, honey, and poppy seeds in a small bowl. While whisking constantly, add the oil in a steady stream. Season to taste with salt and freshly ground black pepper.
2. To assemble the salad, combine all ingredients in a large bowl. Toss with vinaigrette and serve.
Vinaigrette serves 4.
(Adapted from Espresso and Cream)