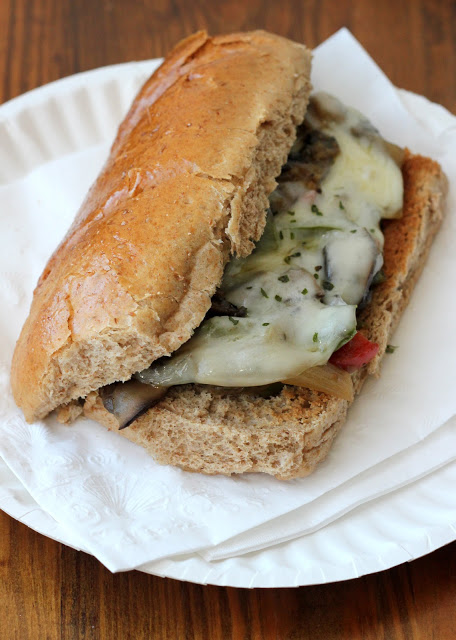 I love when a recipe says it serves four (or even six) and Dustin and I finish it off in a single meal. Way to make us me (he could care less) feel like a pig. I suspect some recipes are just off. Or at least I hope. But occasionally I think we just eat a lot. Especially over the last six months as I'm breastfeeding and I'm ravenous. When I was pregnant I ate about my usual, or less. But now that food tastes good again and I'm a calorie-burning machine, I consume an impressive amount.
I admit, it's hard to keep it healthy when you're constantly needing to eat. I wish fruits and veggies were always satisfying. Or that a nutritious meal would magically appear on my counter- three times a day. But alas, this is real life and I don't get everything I want. Even if I don't always have a home-cooked dinner anymore (or never even get dressed for the day), I do have an adorable baby girl. And I don't want to give her back. So most of the meals I do make now can be prepared during the short duration that she naps. My new focus: simple, healthy, filling, and quick.
This recipe was supposed to serve four. But I added an extra pepper and even then, could only stretch it to make three sandwiches. So either we stuffed ourselves or you can expect a similar result. I thought these "cheese steaks" were flavorful and "meaty" (which is quite a feat considering mushrooms replace the steak). I served them with a pan of roasted potatoes, parsnips, and carrots. And devoured the leftovers as a snack.
Portobello "Cheese Steak" Sandwich
INGREDIENTS
1 Tbsp. extra virgin olive oil
1 medium yellow onion
4 large portobello mushroom caps
1 green bell pepper
1 red bell pepper
2 Tbsp. fresh oregano, minced or 2 tsp. dried oregano
1/2 tsp. freshly ground black pepper
1 Tbsp. all-purpose flour
1/4 cup low-sodium vegetable or chicken broth
1 Tbsp. reduced-sodium soy sauce
Provolone cheese, thinly sliced
4 whole wheat buns
DIRECTIONS
1. Heat oil in a large nonstick skillet over medium heat. Add onions and saute until soft and beginning to brown, about 3 minutes. Add mushrooms, peppers, oregano, and black pepper, and cook, stirring often, until the vegetables are wilted and soft, about 7 minutes.
2. Reduce heat to low; sprinkle the vegetables with flour and stir to coat. Stir in broth and soy sauce; bring to a simmer and cook until sauce is thickened.
3. Preheat broiler. Divide the filling between the four buns and top with sliced provolone. Broil until the buns are toasted and the cheese is bubbling. Serve warm.
Serves 4 (or if yours buns are extra large, 2-3).
(Adapted from Eating Well)