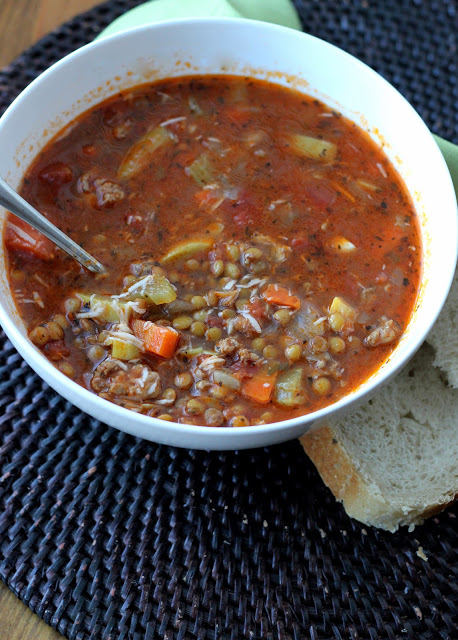 My photography doesn't always do my recipes justice. I spend a lot more time worrying about taste than looks. And now that it gets dark in the late afternoon it's almost impossible to get a good shot of anything I cook for dinner. So I'm either in a rush or shooting leftovers that never look as attractive after their time in the fridge. But I refuse to let a less-than-perfect photo deter me from posting an awesome recipe. This one must be shared. This soup is just what you need to get through these next few months. It's hearty and warm and will feed a lot of mouths. Serve with fresh Parmesan and crusty bread for soaking up the rich broth.
Sausage Lentil Soup
INGREDIENTS
1 lb. green lentils
1 Tbsp. extra virgin olive oil
1 lb. ground Italian sausage
1 large onion, diced
4 stalks celery, diced
3 large carrots, peeled and diced
1 small zucchini or yellow squash, diced
2 large cloves garlic, minced
1 tsp. kosher salt
1/2 tsp. freshly ground black pepper
1/4 tsp. crushed red pepper flakes (more to taste)
1 tsp. dried basil
1 tsp. dried oregano
1 tsp. dried thyme
1 tsp. dried parsley
6 cups low-sodium chicken broth
28 oz. can diced or crushed tomatoes (I used fire-roasted crushed tomatoes)
2 Tbsp. red wine vinegar
freshly grated Parmesan, for serving
DIRECTIONS
1. In a large bowl, cover the lentils with boiling water and let sit 15 minutes. Drain.
2. Heat oil in a very large pot over medium-high heat. Add the Italian sausage and cook until browned and no longer pink.
3. Add the onion, celery, carrots, zucchini, garlic, salt, pepper, red pepper, and dried herbs. Cook for about 15 minutes, stirring often.
4. Add chicken broth, tomatoes, and drained lentils, cover, and bring to a boil.
5. Reduce heat to medium-low and simmer for 1 1/2 hours or until the lentils are cooked through and tender, stirring occasionally. If needed, add water partway through cooking to thin the soup. (I added about 1 cup.)
6. Stir in the red wine vinegar and season with salt and pepper to taste. Serve with freshly grated Parmesan.
Serves 8+.
(Adapted from Food.com via My Baking Addiction)