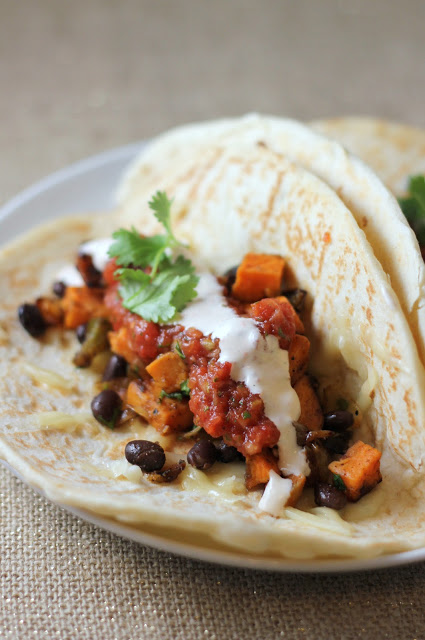 I wasn't expecting much when I threw this dinner together. I'd seen sweet potato tacos floating around a few food blogs and thought they sounded healthy and easy. (And sweet potatoes are a staple around here as they are a favorite of our now-eating-real-food baby.) Much like my attitude towards pizza toppings, if it'll fit inside a taco shell, I'm bound to try it out. These tacos were a pleasant surprise. A meal worth sharing and repeating.  I roasted them for maximum flavor- tossed with peppers, onion, garlic, and some earthy spices (which you shouldn't hesitate to experiment with). The additional fillings are also up to you, but I highly recommend the chipotle cream (which has just a touch of heat) and some fresh (preferably homemade) salsa. And I would have included avocado if I had one.
Despite the fact that baby girl is almost 8 months old, I'm still proud of myself when I get a home-cooked meal on the table. (Which means that I also managed to get dressed, shop for groceries, clean the kitchen…!) But I'm more motivated than ever as I'm cooking for her, too. We've given up on purees and started a different approach to feeding her called baby led weaning. So far it's working great for all of us. I'm sure I'll have more to tell on that topic later. But for now, if I don't check back in before next week- Merry Christmas!! Have a wonderful holiday.
Roasted Sweet Potato and Black Bean Tacos
INGREDIENTS
3 medium or 2 large sweet potatoes, peeled and diced
1 bell pepper or poblano (I used a green bell pepper), seeded and diced
1 small white onion, chopped
3 large cloves garlic, minced
2 Tbsp. extra virgin olive oil
kosher salt and freshly ground black pepper
1/2 tsp. cumin
1/4 tsp. Mexican oregano
1/2 tsp. smoked paprika
pinch cayenne pepper (more or less depending on how much heat you want)
1 cup black beans, drained and rinsed
handful cilantro, chopped (more or less to taste)
1/2 cup sour cream
1 Tbsp. chipotle in adobo, minced
1/2 lime, juiced
salt and freshly ground black pepper, to taste
8 flour or corn tortillas
Monterey Jack cheese, shredded (or Pepper Jack or Cheddar, or Manchego)
fresh salsa or pico de gallo, for serving (optional)
avocado, for serving (optional)
DIRECTIONS
1. Preheat oven to 400 F. Line a large rimmed baking sheet with aluminum foil and coat with cooking spray.
2. Toss sweet potatoes, pepper, onion, and garlic with olive oil, a generous sprinkling of salt and pepper, and spices. Spread in an even layer on the prepared baking sheet. Bake in preheated oven for 25-30 minutes, turning occasionally, until tender and browned. Remove from the oven and add black beans and cilantro; toss to combine.
3. Meanwhile, combine the sour cream, chipotle, and lime juice in a blender or food processor. Pulse until smooth. Season to taste with salt and freshly ground black pepper.
4. Heat a large skillet on the stove over medium heat. Add a tortilla, top with shredded cheese, and cook until the tortilla is lightly browned and the cheese is melted. Repeat with the remaining tortillas. (Already prepared tortillas can be placed on baking sheet in a 200 F oven to keep warm until serving.)
5. Spoon sweet potato filling into center of each tortilla. Drizzle with chipotle cream and top with fresh salsa and/or avocado.
Serves 3-4.
(Inspiration from here and here)