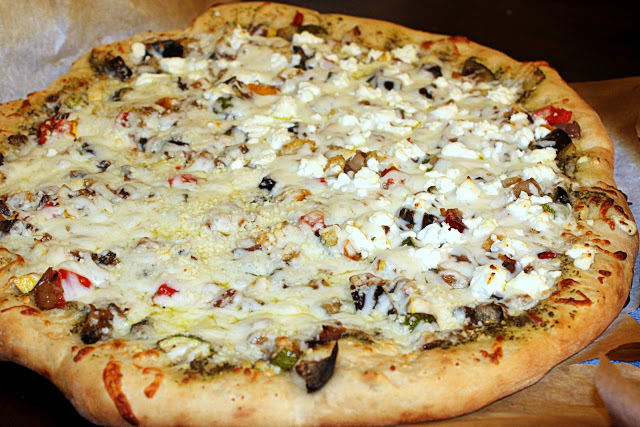 My gym shares a parking garage with Whole Foods. The elevator (I'm not about to lug an 18 lb. baby + 10 lb. diaper bag + groceries down and up all those stairs) deposits you in the Whole Foods lobby (which you then have to exit and cross the street to access the gym and return through on your way back). I'm suspicious that the two have teamed up to keep each other in business. If the intense aroma of baked goods wafting through the parking deck doesn't prevent you from reaching the gym in the first place, you'll surely succumb when you're ravenous post-workout. I can't decide if this situation is perfectly convenient or entirely hazardous- for my budget and my body. I love being able to pick up a few groceries without making an extra trip. But I can always find a reason to go in and end up with a few more goodies than intended. I might be able to resist the cookies, but I usually come out with a loaf or two of bread and a new variety of cheese or a roll of sushi.
One day, being particularly hungry, I grabbed a slice of sweet potato spinach lasagna to take home for lunch. It looked and sounded delicious- two favorite vegetables layered with pasta and bubbling cheese. And then I took my first bite to realize that this was no normal lasagna. A quick inspection of the ingredients list revealed that it was in fact vegan. Layers of tofu replaced the pasta and cheese and what I thought was little flecks of Parmesan on top was nutritional yeast. (The vegetables did turn out to be real.) I still ate it. And it wasn't completely disgusting- just extremely disappointing for a cheese-loving girl like me. (And hopefully really good for me.)
And then there was the day I picked up a slice of this pizza. Quite the opposite experience. Aside from a mediocre crust, I was wowed. There was a generous layer of basil pesto and chopped roasted vegetables topped with genuine melted mozzarella. Mmmmhhh. I knew at once I'd be recreating it at home. And so here it is.
I roasted a combination of bell peppers, summer squash, eggplant, mushrooms and onion. And had a pile of leftover vegetables which I've been adding to sandwiches, omelets, and quesadillas throughout the week (so clearly not a problem). I purchased a container of pesto at the store, but homemade would be even better. For half of the pizza I combined the mozzarella with Parmesan and on the other half I added goat cheese. Both were excellent so no recommendation there. I didn't provide exact amounts in the ingredients because I didn't measure anything. The more veggies and cheese the better, I say.
Pesto and Roasted Vegetable Pizza
INGREDIENTS
1 recipe pizza dough
combination of roasting vegetables, diced (I used red and yellow bell peppers, yellow squash and zucchini, eggplant, cremini mushrooms, red onion)
olive oil
kosher salt and freshly ground black pepper
~ 2 cups mozzarella, grated
freshly grated Parmesan or goat cheese, crumbled
pesto (jarred or homemade– I used half of a 7 oz. container)
DIRECTIONS
1. Prepare dough according to recipe directions.
2. Meanwhile (or ahead of time), to roast vegetables preheat oven to 400 F. Line a large rimmed baking sheet (or two baking sheets if you have a lot of vegetables) with aluminum foil and coat with cooking spray. Drizzle the vegetables with olive oil and toss to coat. Sprinkle with kosher salt and freshly ground black pepper. Spread in an even layer on the prepared baking sheet and roast in preheated oven for 25-35 minutes, turning occasionally, until golden and tender.
3. Preheat oven and pizza stone to 450 F.
4. Top prepared crust with a thin layer of pesto, the roasted vegetables, mozzarella and Parmesan (or goat cheese).
5. Place on pizza stone and bake for 8-10 minutes, or until the crust is puffed and golden and the cheese is bubbling.
Makes 1 large pizza.