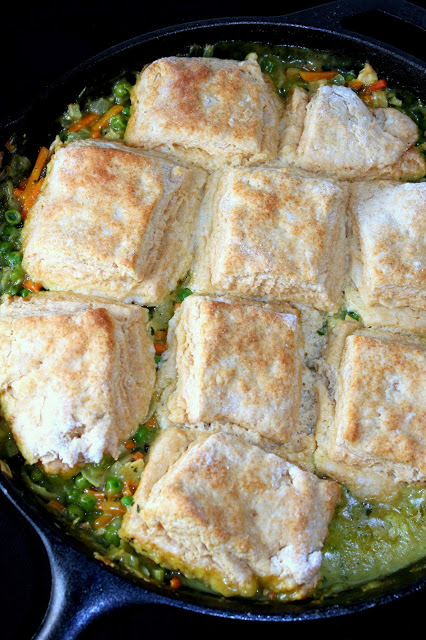 Here's that promised biscuit recipe. I've made biscuits with whole wheat in the past and while they were edible (anything embedded with ample butter usually is), they didn't have the fluffy-flaky texture I desired. And then I came across a recipe that suggested I pull out my rolling pin and take that biscuit dough and roll, layer, and repeat. Quickly (so the butter doesn't have time to warm) and gently (because an overworked biscuit turns tough). And it worked! These biscuits are half whole wheat and rise high and flake apart in satisfying little layers. I put them on top of a pot pie. And then pulled off the top layer or two and ate them with butter and jam. Yum.
Flaky Whole Wheat Biscuits
INGREDIENTS
1 cup white whole wheat flour
1 cup all-purpose flour + extra for kneading
1 Tbsp. baking powder
1/2 tsp. baking soda
2 tsp. sugar
1/2 tsp. salt
6 Tbsp. cold unsalted butter, diced
1 cup cold milk or buttermilk
DIRECTIONS
1. Preheat oven to 450 F.
2. In a large bowl, whisk to combine flours, baking powder, baking soda, sugar, and salt. Cut in butter with a pastry blender until only fine crumbles (pea size) remain. Add the milk (or buttermilk) and stir until just moistened throughout.
3. Turn dough onto a well floured surface. Dust with flour and knead several times (the dough will still be sticky). Add some more flour to the countertop and flour a rolling pin. Roll dough out into a large rectangle and the fold in half or thirds. Repeat 2-3 times, dusting with more flour as necessary to prevent sticking. Roll the dough into a 3/4-inch thick rectangle. Use a round biscuit or cookie cutter to cut into circles or simply slice into rustic squares with a knife.
4. Place biscuits on an ungreased cookie sheet or pan. Bake in preheated oven for 12-14 minutes, until golden brown. Serve immediately.
Makes 8-10 biscuits, depending on size.
(Adapted from Sarah's Cucina Bella and A Cozy Kitchen)