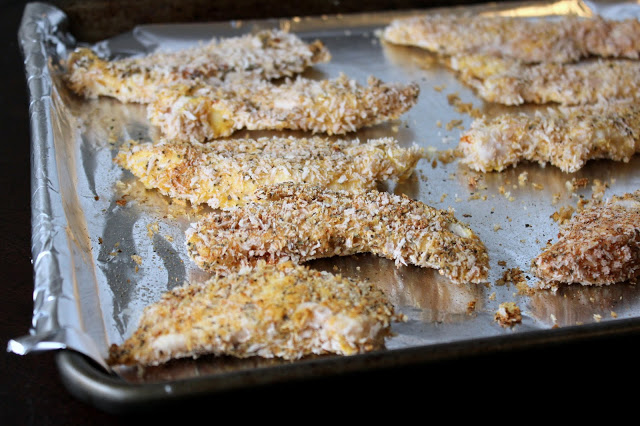 I originally posted this recipes 4 years ago, when I first started blogging. It was time for it to be revisited and updated with a picture. Excuse my lack of sunlight and less than stellar photography. That's what you get when you eat in a dimly fluorescent-lit kitchen during a Chicago winter. Despite the blanket of snow falling outside my window right now, I choose to believe spring is coming, and quick! There will be warmth and sun again. How we need it.
This recipe couldn't be simpler. You cut chicken into strips (after a little pounding, if necessary) and coat them first in flour, next in egg, and then in a panko spice mixture. They only take a few minutes to bake and out of the oven come crispy on the outside, juicy in the middle, spicy and delicious chicken bits. I served them with a big bowl of pasta. But they'd make a meal of their own alongside some steamed vegetables and honey mustard or aioli for dipping.
Panko Crusted Chicken Tenders
INGREDIENTS
1 1/2 lbs. boneless skinless chicken breast (sliced into thin strips) or tenders
1 1/2 cups panko breadcrumbs (preferably whole wheat)
2 tsp. dried basil (oregano would also work well)
2 tsp. garlic powder
1 tsp. smoked paprika
1/4-1/2 tsp. cayenne pepper
1/2 tsp. kosher salt
1/2 tsp. freshly ground black pepper
2 eggs
1/2 cup all-purpose flour
DIRECTIONS
1. Preheat oven to 350 F. Line a large baking sheet with aluminum foil and lightly coat in cooking spray.
2. In a shallow dish, season the flour with salt and pepper. In a second shallow dish, lightly beat the eggs. In a third shallow dish, combine the panko with the basil, garlic powder, smoked paprika, cayenne, salt, and pepper.
3. Dredge chicken strips in the flour to coat, shaking off an excess flour. Then dip in the eggs and then coat with the breadcrumb mixture. Place on the prepared baking sheet and repeat with the remaining chicken strips.
4. Bake in preheated oven for 10-15 minutes (time will depend on how thick your chicken strips are), flipping halfway through, until golden brown and the juices run clear.
Serves 4.
(Adapted from Love and Olive Oil)