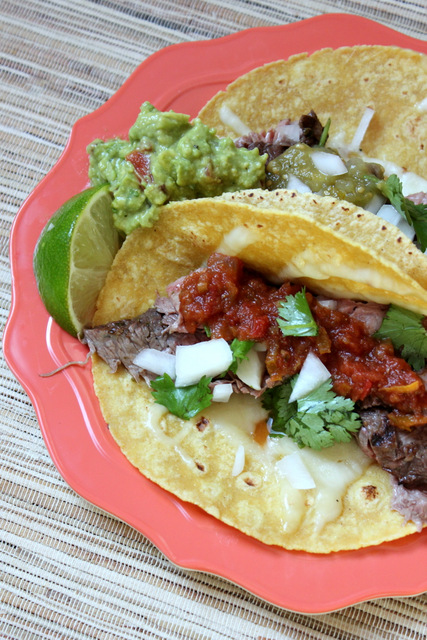 Steak has always intimidated me. Large hunks of meat that aren't reliably tender and juicy and take some finesse to tame make me uneasy. And with good reason for I've had my handful of failures in this realm. I prefer beef that I can throw in the slow cooker and return to eight hours later- cooked perfectly. I'm also still learning my way around the grill. (The outdoor one anyway, I've become quite the pro with my handy Griddler.) And it's way too easy to overcook an expensive steak if not done properly. So know this: I was nervous about these tacos. But you shouldn't be. They're marvelous. And don't require any special skills to recreate.
The secret weapon is the marinade, also known as mojo. It's full of acidic things like vinegar and orange and lime that take what could be a tough cut of meat and render it succulent. And this whole process takes place while you're just going about your day. Dinnertime rolls around and you throw that marinated steak on the grill until it's charred on the outside and still pink in the center. Then let it rest for a few minutes (this step is IMPORTANT- you don't want all those juices you worked so hard to infuse to escape onto the cutting board) before slicing across the grain (this video was helpful when I was unsure exactly what that meant). Serve in warm tortillas (with melted cheese, even better) with lettuce, onion, cilantro, and your favorite salsa. Amazing. Take that, scary steak.
Carne Asada (Grilled Skirt Steak) Tacos
INGREDIENTS
2 lbs. skirt steak (or flank steak), trimmed of excess fat
4 cloves garlic, minced
1 jalapeno, diced (I only used half and removed the seeds and ribs)
large handful fresh cilantro, chopped
kosher salt and freshly ground black pepper
2 limes, juiced
1 orange, juiced
2 Tbsp. white vinegar
1/2 cup olive oil + extra for coating the grill
for serving:
corn tortillas, warmed (I melted the cheese on them while I warmed them in a hot skillet)
romaine or iceberg lettuce, shredded
white onion, diced
Monterey Jack or pepper jack cheese, shredded
salsa or pico de gallo
cilantro, chopped
lime wedges
DIRECTIONS
1. To prepare the mojo marinade, combine the garlic, jalapeno, cilantro, lime juice, orange juice, vinegar, and olive oil in the bowl of a food processor or blender. Season with salt and freshly ground black pepper. Lay the steak in a large baking dish and pour the mojo over it. Cover and refrigerate for at least 1 hour and up to 8 hours (but no longer or the meat will begin to break down and become mushy).
2. Preheat outdoor grill or indoor grill pan to medium-high heat. Brush the grates with a little oil to prevent the meat from sticking. Remove the meat from the marinade (which you can discard) and season the steak with salt and pepper. Grill the steak until medium-rare, turning once halfway through cooking. (The original recipe recommended 7-10 min per side but my steak was thin and cooked much faster.) Remove to a cutting board and allow to rest for 5 minutes so the juices can settle. Thinly slice the steak across the grain on a diagonal. Serve steak in warmed tortillas with lettuce, onion, cheese, salsa/pico de gallo, cilantro, and lime wedges on the side.
Serves 4-6.
(Adapted from Food Network)